Beautiful uncancelled stock certificate from the Ponce de Leon Trotting Association, Inc issued in 1959. This historic document was printed by Appeal Printing Company and has an ornate border around it with a vignette of an eagle. This item has the printed signatures of the Company's President, Leo Blank and Secretary and is over 50 years old. The certificate was issued to Lawrence D. Plante and endorsed by him on the verso.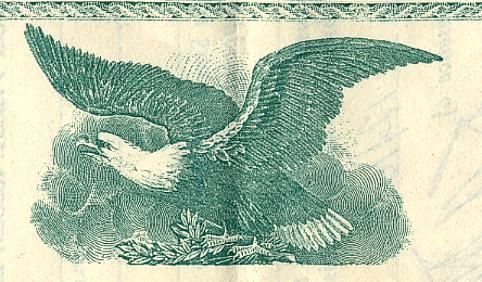 Certificate Vignette
Ponce de Leon Trotting Association, Inc. operated out of Bayard, Florida. The company acquired all the assets and assumed the liabilities of Ponce de Leon Race Way, Inc. which operated a raceway midway between Jacksonville and St. Augustine, Fflorida.
---
Obituary Leo Blank, 69, Builder With Diverse Ventures March 2, 1992 Leo Blank, a real-estate developer and entrepreneur, died Friday at Mount Sinai Medical Center in Manhattan. He was 69 years old and lived in Jacksonville, Fla., with a second home in Manhattan. He died of heart failure, his family said. Mr. Blank developed single-family homes, apartments, offices, shopping centers and movie theaters in Jacksonville, Puerto Rico and Hudson, N.Y. Among his diverse ventures, he founded Ultra Bio, a vitamin manufacturer, and the Sullivan County Building Supplies Corporation, which began supplying hotels in the Catskills and later extended to projects as distant as Israel and the Sudan. In 1963 he brought the first motel chain to the Catskills, with a Howard Johnson's in Liberty. He also started Lustron, which made factory-built homes in the Catskills, and worked on some television syndications and movie distribution. He distributed heating oil and gasoline for Exxon in Sullivan County, N.Y., and founded the Ponce de Leon Raceway in Bayard, Fla. Mr. Blank was born in Brooklyn and grew up there and on a farm in Bethel, N.Y. In World War II he served in the Army as a cadre instructor. For several years in the 1980's he was chairman of the board of the Daytop Village Foundation, a drug-addiction treatment organization, and earlier he headed the United Jewish Appeal in Liberty. Surviving are his wife, the former Mildred Kravit; two sons, Stephen and Randall of Manhattan; three grandchildren, and a brother, Bernard of Liberty.