Beautiful certificate from the Poplar Bluff Lumber Company issued in 1895. This historic document has an ornate border around it with a vignette of lumbrtjacks. This item has the signatures of the Company's President, Wm. H. Kinzer and Secretary and is over 114 years old.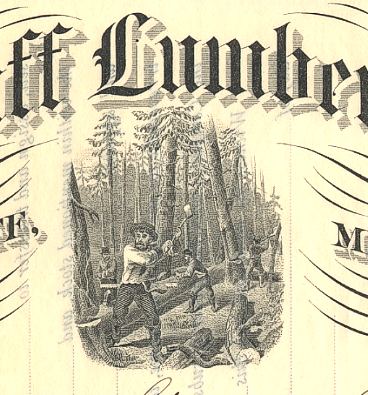 Certificate Vignette
POPLAR BLUFF LUMBER AND MANUFACTURING COMPANY. Of this concern we know of no more expressive yet inelegant language to utter our opinion than to designate it as a "big thing." The stockholders of the Poplar Bluff Lumber and Manufacturing Co. are business men and capitalists of Pennsylvania. The Company began operations in Poplar Bluff by the purchase of a small saw mill must below the depot, which they enlarged and refitted by the addition of new and convenient machinery and increased capacity. In the summer of 1883, the Company purchased 16 acres of land in the southern portion of the city for which they paid the sum of $1,5oo in cash. Upon this ground they at once erected a number of two-story frame buildings for the use of their employees, and in October last W. H. H. Kinzer, President, and E. E. Kinzer, Secretary, arrived here for the purpose of superintending the building of a new and gigantic factory. The Railroad Company has extended a switch to this factory and the carpenters are now pushing to completion a large two-story mill 30x100 feet. They have purchased a 40-horse power engine, with boiler and saw mill of the newest and most approved pattern and will have a daily capacity of sawing 20,000 feet of lumber from a lath to a girder 50 feet long. In this establishment will also be found a shingle machine with a capacity of 40,000 shingles daily, planers, edgers, swing and band saws, and all machinery to utilize lumber of all varieties into all marketable and merchantable shapes. When completed this mill will be one of the greatest importance, and will afford employment to at least on hundred hands. The officers of the company are Wm. H. Kinzer, President; E.E. Kinzer, Secretary; Amos Early, Treasurer, and T. C. Gifford, Superintendent. The Company is composed of men who are financially fully able to carry out their plans, and are happy in the possession of enterprise and energy. Oak, poplar, ash, cypress, walnut, pine, gum and cherry will find use in this establishment in the manufacture of lumber of all kinds, flooring, lath, shingles, and any other article of wooden manufacture which is needed. The Company has purchased the "Bull of the Woods," a small steamer, which they have refitted and will use on the waters of Black river in carrying logs, lumber and merchandise to and from all points on that stream. With the exception of Mr. T. C. Gifford, the superintendent, who is a citizen of Poplar Bluff, and by the way a most excellent gentleman, and a thorough lumberman, the members of the company are from the state of Pennsylvania, but having visited a growing town, and being impressed with the many advantages it offers to the manufacturer of lumber, they wisely concluded to invest their money in the place and they do not regret it, for the combination of money, enterprise and energy in Poplar Bluff will never fail. History from Butler county Missouri,"A View of A Growing Town"