Beautiful engraved specimen working proofs from the Reebok International Ltd. This historic document was printed by United States Bank Note Company and has an ornate border around it with a vignette of the Reebok logo. This item has the printed signatures of the Company's President and Secretary.
Certificate Vignette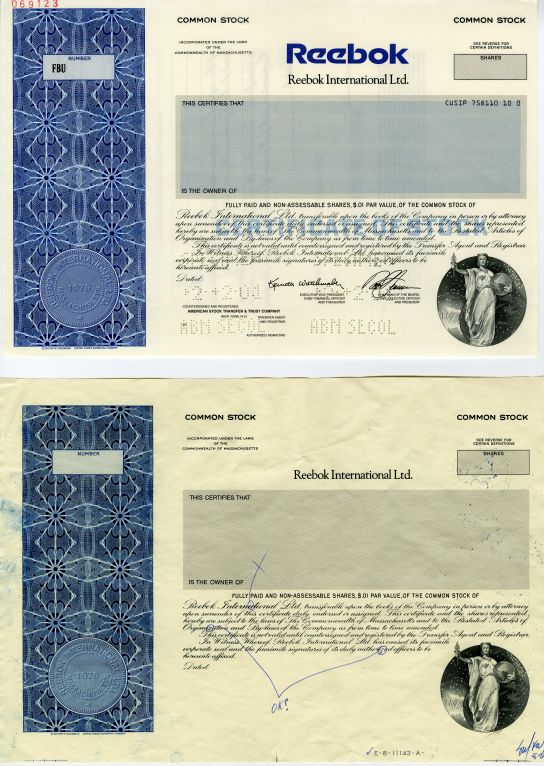 Other certificates
---
Reebok International Limited is a British producer of athletic footwear, apparel, and accessories and is currently a subsidiary of Adidas AG. The name comes from Afrikaans/Dutch spelling of rhebok, a type of African antelope or gazelle. The company, founded in 1895, was originally called Mercury Sports but was renamed Reebok in 1960. The company's founders, Joe and Jeff Foster, found the name in a dictionary won in a race by Joe Foster as a boy; the dictionary was a South African edition, hence the spelling. Reebok is now owned by the German footwear giant Adidas, which completed its acquisition in early 2006. Reebok was founded in 1895, in Bolton, Lancashire, by Joseph William Foster under a company called J.W. Foster and Sons Limited. The family-owned business proudly made the running shoes worn in the 1924 Summer Olympics by the athletes Harold Abrahams and Eric Liddell celebrated in the film Chariots of Fire. In 1958, two of the founder's grandsons Jeffrey and Joseph left the family business and started a rival company that came to be known as Reebok. In 1979, Paul Fireman, a partner in an outdoor sporting goods distributorship, spotted Reebok shoes at the annual sporting goods "super show" in Atlanta, Georgia. He negotiated for the North American distribution license and purchased the rights to sell Reebok footwear. Reebok introduced three running shoes in the United States that year. At $60, they were the most expensive running shoes on the market then. Soon thereafter, Reebok sales exploded when designer Angel Martinez created the Reebok Princess Women's aerobic shoe and the woman's fitness boom took off. Former Reebok logoThe firm was sold to a group of investors in 1984, led by R. Stephen Rubin of Pentland Industries and Paul Fireman, who established a holding company based in the UK, Limelight Limited, renamed Reebok International Limited after the completion of the sale by Joseph Foster. This company subsequently bought the J.W. Foster limited company from Mr. Foster, to allow it to use the Foster Family history (after 1939). Joe Foster was retained by Rubin and Fireman to expand the companies operations outside the USA, which he did until 1990. 1985 Freestyle and Ex-O-Fit hi-tops advertisementReebok surged in popularity in 1982 after the introduction of the Freestyle athletic shoe, which was specifically designed for women and came out when the aerobics fitness craze started. Not only was the Reebok Freestyle popular as athletic wear, but also on the streets as casual wear because of its comfort and styling. As a result the Reebok Freestyle became an icon of the [1980s fashion scene with hi-top versions (including two velcro straps at the top) and colors including white, black, red, yellow, and blue. Reebok continues to produce the Freestyle to this day as it is popular with cheerleading, aerobic dancing, the gym, and dedicated consumers. Following the height of the Freestyle success, Reebok also introduced a popular athletic shoe for men, called the Ex-O-Fit. Similar to the Freestyle, it came in low-top and hi-top versions; however, unlike the Freestyle hi-top with two velcro closure straps, the Ex-O-Fit only had one strap. One of the designers of this early footwear was the founder's son, David Foster. In the late-1980s, the company introduced the Reebok Pump line, which used an air bladder, inflated by means of a small pump integrated into the tongue of the shoe, to hold tightly to the wearer's ankle. This allowed for more aggressive maneuvering without injury, but also became a popular fashion element. Around 1993, they introduced an air transfer system which was incorporated into the sole of the trainer. In the past, Reebok had an association with outsourcing through sweatshops, but today it claims it is firmly committed to human rights. In April 2004, Reebok's footwear division became the first company to be accredited by the Fair Labor Association. In 2004, Reebok also became a founding member of the Fair Factories Clearinghouse, a non-profit organization dedicated to improving worker conditions across the apparel industry. Supplier information, according to the Reebok website as of May 2007: "Footwear Reebok uses footwear factories in 14 countries. Most factories making Reebok footwear are based in Asia--primarily China (accounting for 51% of total footwear production), Indonesia (21%), Vietnam (17%) and Thailand (7%). Production is consolidated, with 88% of Reebok footwear manufactured in 11 factories, employing over 75,000 workers." "Apparel Reebok has factories in 45 countries. The process of purchasing products from suppliers is organized by region. Most (52%) of Reebok's apparel sold in the US is produced in Asia, with the rest coming from countries in the Caribbean, North America, Africa and the Middle East. Apparel sold in Europe is typically sourced from Asia and Europe. Apparel sold in the Asia Pacific region is typically produced by Asian-based manufacturers." The company holds exclusive rights to manufacture and market both authentic and replica uniform jerseys and sideline apparel of the teams of the National Football League since 2002, the Canadian Football League since 2004, and is the official shoe supplier to the NFL and Major League Baseball. In addition Reebok acquired official National Hockey League sponsor CCM in 2004, and is now manufacturing ice hockey equipment under the CCM and RBK brands, and has signed popular young stars Sidney Crosby and Alexander Ovechkin to endorsement deals (Crosby for Rbk, Ovechkin for CCM). Reebok has phased out the CCM name on NHL authentic and replica jerseys in recent years, using the Reebok logo since 2005. Reebok is also endorsed by Allen Iverson, Carolina Kluft, Amelie Mauresmo, Nicole Vaidisova, Ivy and Amir Khan. It maintains its relationship with its origins in England through a long-term sponsorship deal with Bolton Wanderers, a Premiership football club. When the team moved to a brand new ground in the late-1990s, their new home was named the Reebok Stadium. Several other English clubs had Reebok sponsorship deals up until the purchase by Adidas, but most have since switched to either the parent brand (which has a long history in football) or another company altogether. In 2005, Reebok also signed an exclusive agreement to design and supply all 8 team home and away strips for the new Australian A-League competition. Although not an expensive deal, this partnership is paying huge dividends for Reebok, due to the growing popularity of football and the league in the area. An estimated 125,000 jerseys have been sold in Australia,a record for a single league's sales in a year for a sports manufacturer. [1]. Reebok sponsors four teams in the Australian Football League, those being the Fremantle Football Club, the North Melbourne Football Club, the Port Adelaide Football Club and the Richmond Football Club, the latter two beginning their association from the 2007 season. Reebok has supplied rugby league teams the Melbourne Storm, Manly Sea Eagles and the Gold Coast Titans with club's kits and other merchandise. In rugby union, Reebok sponsors the Wales national team, the last team to date to win a Grand Slam in the Six Nations Championship, and the Tasman Makos in New Zealand's domestic competition, the Air New Zealand Cup. In 2006, current Barcelona) and France striker Thierry Henry (then playing for Arsenal FC) signed a deal to join the "I Am What I Am" campaign on August 1, 2006. Ryan Giggs has also done "I Am What I Am" commercials. Also, on August 1 2006, Andriy Shevchenko started his endorsement deal with the company. [2] The company also holds sponsorships with Chivas de Guadalajara, the most popular club in Mexican football, and Brazilian clubs Internacional, São Paulo FC and Vasco da Gama. Several international cricketers, such as Pakistani skipper Shoaib Malik, Pakistani batsman Abdur Razzaq, Indian captain Rahul Dravid, Indian batsmen VVS Laxman and Mahendra Singh Dhoni, and Chris Gayle of the West Indies, endorse Reebok. They are supplied with Reebok cricket shoes, as well as with cricket bats marked with the Reebok brand in the cases of Malik, Dhoni, Laxman, and Gayle. In fact, these bats are not actually made by Reebok. Rapper Jay-Z became the first non-athlete to get a signature shoe from Reebok. The "S. Carter Collection by Rbk" was launched in November 21, 2003 and the "S. Carter" sneaker became the fastest selling shoe in the company history. Later Reebok made a deal with rapper 50 Cent to release a line of G-Unit sneakers and artists like Nelly and Miri Ben-Ari have become spokespersons for the company. History from Wikipedia and OldCompanyResearch.com (old stock certificate research service). About Specimens Specimen Certificates are actual certificates that have never been issued. They were usually kept by the printers in their permanent archives as their only example of a particular certificate. Sometimes you will see a hand stamp on the certificate that says "Do not remove from file". Specimens were also used to show prospective clients different types of certificate designs that were available. Specimen certificates are usually much scarcer than issued certificates. In fact, many times they are the only way to get a certificate for a particular company because the issued certificates were redeemed and destroyed. In a few instances, Specimen certificates we made for a company but were never used because a different design was chosen by the company. These certificates are normally stamped "Specimen" or they have small holes spelling the word specimen. Most of the time they don't have a serial number, or they have a serial number of 00000. This is an exciting sector of the hobby that grown in popularity over the past several years.