Beautifully engraved gold bond certificate from the Starrett Investing Corporation printed in 1930. This historic document was printed by the American Banknote Company and has an ornate border around it with a vignette of an allegorical woman. This item is over 80 years old.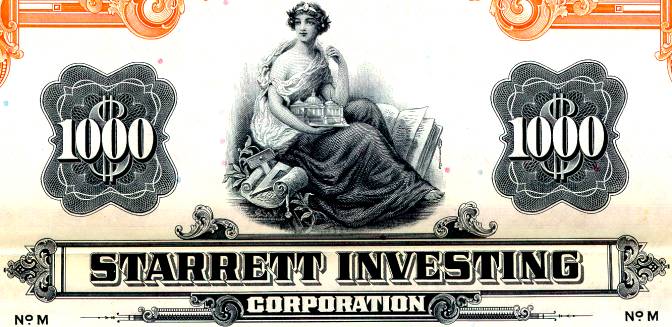 Certificate Vignette
Starrett Corporation is a general investment company which was incorporated in Dover, Delaware, in February 1929. The business is best known for having built the Empire State Building, Stuyvesant Town, and Trump Tower. In June 1997 Starrett Corporation was purchased by Jacob A. Frydman, a 39-year-old New York real estate investor and developer. He paid $84 million, $12.25 per share, after reaching an agreement with holders of 52% of the company's outstanding shares. The company's initial capitalization was 1,500,000 shares of stock of no par value. Incorporators were Alfred G. Mueller, Alfred W. Boser, and Atlee W. Estarbrook, of New York City. With its subsidiaries the business had a total capitalization of approximately $40,000,000. Starrett Corporation acquired all of the capital stock of Starrett Brothers, a building company. Starrett Corporation was involved in construction and financing of buildings in the major urban centers of the United States. Paul Starrett became chairman of the board and W.A. Starrett served as president and a director. One subsidiary, the Starrett Building Company of Chicago, Illinois, erected the steel girders on the National Parking Garage in Chicago, in 1929.[4] Two other subsidiaries were the Starrett Investing Corporation and the Wall and Hanover Streets Realty Company. The latter subsidiary owned a thirty-five story building at 59 - 61 Wall Street (Manhattan). Starrett Corporation's subsidiaries also include the Levitt Corporation, which built tract housing following World War II. More recently the company maintained a successful home building business in Puerto Rico and Florida.[1] History from Wikipedia and
OldCompany.com
(old stock certificate research service)
About Specimen Certificates
Specimen Certificates are actual certificates that have never been issued. They were usually kept by the printers in their permanent archives as their only example of a particular certificate. Sometimes you will see a hand stamp on the certificate that says "Do not remove from file". Specimens were also used to show prospective clients different types of certificate designs that were available. Specimen certificates are usually much scarcer than issued certificates. In fact, many times they are the only way to get a certificate for a particular company because the issued certificates were redeemed and destroyed. In a few instances, Specimen certificates were made for a company but were never used because a different design was chosen by the company. These certificates are normally stamped "Specimen" or they have small holes spelling the word specimen. Most of the time they don't have a serial number, or they have a serial number of 00000. This is an exciting sector of the hobby that has grown in popularity over the past several years.