Beautiful certificate from the United States Cashier Company issued in 1912. This historic document was printed by the Goes Company and has an ornate border around it with a vignette of an eagle. This item has the signatures of the Company's President,Frank Menefee and Assistant Secretary, and is over 87 years old.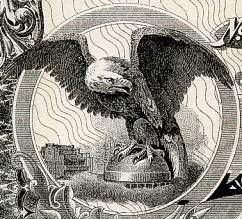 Certificate Vignette
February 28, 1915 New York Times CHARGE $1,000,000 SWINDLE; Officers of U.S. Cashier Company Indicted in Portland. PORTLAND, Ore., Feb. 27. -- A million-dollar swindle is charged against officers and salesmen of the now defunct United States Cashier Company of this city in an indictment returned by a Federal Grand Jury today. The indictment charges conspiracy and misuse of the mails on the part of Frank Meneffee, F.M. Lemonn, O.E. Gernert, B.F. Bonnewell, H.M. Todd, Joseph Hunter, O.L. Hopson, P.E. Muraine, Oscar A. Campbell, and Thomas Bilyeu.
---
Frank Menefee and others were convicted of violating Penal Code, § 37, by conspiring to violate section 215 by using the mails to defraud, and they bring error. Menefee, Todd, Campbell, and Bonnewell, were convicted for violation of section 37 of the Penal Code, as a result of charges that defendants conspired to violate section 215 of the Penal Code, which relates to the use of the United States mails to promote fraud. The United States Cashier Company was an Oregon corporation. Menefee was a director and president and general manager of the corporation. Defendant Bonnewell was the fiscal agent thereof. Defendant Todd was a sales agent for a time. Campbell was a director and vice president for a time. Between September 1, 1910, and January 31, 1914, the capital stock amounted to $1,200,000 divided into 120,000 shares, of the par value of $10 a share. The charge is that defendants with others conspired to execute a scheme to defraud by means of using the post office, and to obtain money by false representations from a number of persons named In the Indictment and from the public generally by inducing them to open negotiations with the defendants and with the United States Cashier Company, and to buy stock in the corporation, and to pay defendants therefor, the payments to be procured byfalse and fraudulent representations of the defendants to the Investors and the public; that the conspirators were to Induce the investors and the public to pay and deliver to the defendants and the corporation, in exchange for shares of stock, money, by means of false and fraudulent representations by means of printed matter to be sent through the post office to the investors and other persons, representing that the United States Cashier Company owned the patents to certain devices, a change computing machine, a bank cashier machine, a lightning change maker, a currency paying machine, and a new style adding machine, and that the Cashier Company was manufacturing the machines, and that, on account of the alleged ownership of said patents and the manufacturing business, shares in the corporation were of great commercial value, and that dividends would be paid within six mouths from the date of the purchase of the stock; that the Cashier Company would sell large orders for the machines; that its financial condition was excellent, and that a large amount of capital stock of the corporation offered for sale was the property of the corporation, and that the money to be obtained from the sales would be invested by the corporation in a way to Increase the assets and make the stock more valuable; and that, as the assets of the corporation were greater than the liabilities, defendants were justifled in raising the sellIng price of the shares. The indictment negatives the truth of the representations by denying that either the corporation or the defendants owned the patents to the change computing machine, or the lightning change maker, or the currency paying machine, or the new style adding machine. There was no denial of the allegation as to the representation that the corporation owned the bank cashier machine. The indictment further alleges that the Cashier Company was not manufacturing, but that Its business was to sell shares of stock, and that the defendants knew the shares were of little value, practically worthless, that no dividends would be paid, that the company was not the owner of any orders to buy shares, and that its financial condition was that of Insolvency; that large numbers of shares, represented to be the property of the corporation, were shares owned by defendants, and that all of the money received on account of sales would be appropriated by defendants, and none paid Into the corporation treasury; and that defendants were not justified In raising the selling price of the stock, and that purchasers would lose on account of such transactions. It is alleged that part of the scheme was that the defendants should publish untrue statements as to the financial condition of the corporation and that they were to sell shares to investors in many states, and that the business was to be so managed that more than 25 per cent, of all the sums of money received from Investors and paid to the corporation for stock would be appropriated by the defendants to their own use and gain. The conspiracy Is alleged to have been a continuing one--from September 1, 1910, until January 1, 1915. Certain overt acts are charged by the mailing of letters. United States Circuit Courts of Appeals