Beautifully engraved early certificate from the Westinghouse Electric and Manufacturing Company issued in 1905. This historic document was printed by the Homer Lee Banknote Company and has an ornate border around it with a vignette of an allegorical bare breasted maiden holding flowers while floating over a train wheel with sparks flying and clouds in the background. This item is hand signed by the company's officers and is over 113 years old.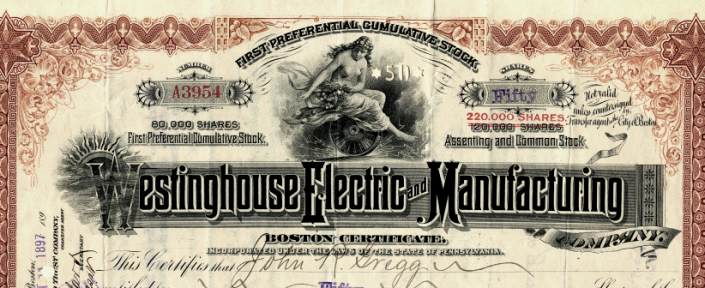 Certificate Vignette
History In the beginning, there were 200 employees at a rented plant in Pittsburgh's Garrison Alley when, on January 8, 1886, a charter was granted to the Westinghouse Electric Company. George Westinghouse and his associates already were on the way to developments that were to change the course of the nation and the world. In the Spring of 1885, Westinghouse had acquired the patent rights to a device that would "transform" the voltage of alternating current, so that electricity could be carried over long distances at high voltages, then stepped down to the proper voltage for its intended use. Some features of the device he had acquired were impractical, but in a few weeks Westinghouse and his staff worked out a complete new design. That first transformer, whose basic features have been standard ever since, was the key to the Golden Age of Electricity. On the night of March 20, 1886, in the village of Great Barrington, Massachusetts, the new transformer demonstrated the feasibility of alternating current for lighting purposes. And people began to marvel at the electric lights "that produce no odor, heat or danger of fire." But the alternating-current system had tough competition. Competitors, like Thomas Edison, who had backed the old system of direct current were firmly entrenched. And the battle of the currents was under way. By 1890, the company's annual sales totaled $4 million, and Westinghouse had installed more than 300 central power stations. The first of these went to light the city of Greensburg, in Pennsylvania. In a bold and daring move, Westinghouse won the contract to light the great Columbian Exposition, to be held in Chicago in 1893. Getting equipment ready in time was an almost impossible task, but the men and women of Westinghouse made the deadline. The dazzling spectacle of a quarter of a million lights stole the show, and paved the way for Westinghouse to get the order for three generators to harness the power of Niagara Falls. At Niagara, the Westinghouse polyphase alternating current system - based on patents acquired from Nikola Tesla - dramatically proved itself and soon ended the battle of the currents. In a short time, alternating current represented 95 percent of all electric power generated around the globe. Development of the alternating current system had numerous by-products. Tesla's induction motor opened the way for alternating current to become the workhorse of the world. One of the earliest applications of the motor was to drive a fan. Oliver Shallenberger developed a meter to measure the current and Lewis Stillwell invented a device to regulate its voltage. By 1894, it was evident that the business had outgrown the Garrison Alley facilities, and contracts were let for a machine shop, warehouse, and boiler and powerhouse along Turtle Creek in East Pittsburgh. From the beginning, the purpose of the company was to develop and market generating and distribution apparatus for the alternating current system as well as the lamps and motors and other electrical devices that would put it to work. That focus led to many innovations and a long list of "firsts" for Westinghouse. The list includes the first steam turbine for a U.S. electric utility, the first main-roll drive for a steel mill, the first geared-turbine drive for a Navy ship, and the first American-built tungsten-filament lamp, the first commercial radio station-KDKA, the first television camera tube, the first industrial atom smasher, the first long-range warning ground radar, the first atomic engine for the Nautilus submarine, the first full scale atomic power plant and the camera that broadcast man's first steps on the moon. In 1900, George Westinghouse introduced the slogan, "The Name Westinghouse is a Guarantee." Today we say, "You can be sure...if it's Westinghouse." However you say it, Westinghouse has been and will continue to be known for innovation, for quality and for technology designed to improve the welfare of mankind. Westinghouse Firsts 1886 First U.S. demonstration of the alternating current system at Great Barrington, Massachusetts. First commercial alternating-current generating station put in operation in Buffalo. 1888 First practical a-c electric induction motor First a-c electric meter 1890 First-long distance alternating-current power transmission system in U.S., from Willamette Falls to Portland, Oregon, 14 miles. 1893 Lighted World's Columbian Exposition in Chicago, greatest display of incandescent lighting to that time. 1894 First practical polyphase induction motors, providing convenient power to drive industrial machines. 1895 Built generators for first major alternating-current power plant, at Niagara Falls. 1896 First trolley run by a-c in Buffalo, New York 1900 Built first steam turbine-generator for U.S. electric utility (Hartford Electric Light Company), revolutionizing generation of electricity from coal; installed 1901. 1905 First demonstration of main-line locomotive powered by single-phase alternating current. First electric motor drive for main rolls in steel mill. 1909 First continuous-filament tungsten lamp. 1911 First marine geared-turbine drive, with launching of U.S.S. Neptune. 1917 First automatic substation; no attendants. First fully-automatic electric range. 1919 First U.S. diesel-electric ship propulsion plant. 1920 First regularly schedule radio broadcast on KDKA 1921 First factory-made radio receivers for home use. 1923 First international radio broadcast by short wave. First laboratory demonstration of television. 1924 Developed first successful automatic electric iron. 1925 Established industry's first high-power laboratory. 1928 First electronic television camera tube demonstrated. 1929 First diesel-electric rail car for U.S. revenue service. 1932 Announced principle of Ignitron mercury-arc rectifier. 1934 Introduced completely-self-protected (CSP) distribution transformer. First completely electrified home, in Mansfield, Ohio. 1935 First electrostatic air cleaner, Precipitron. 1937 First industrial atom-smasher, installed at Research Laboratories site. 1939 First long-range warning ground radar. 1941 First American-designed and American -built jet engine. 1942 First gyroscopic control for stabilizing guns on Army tanks. First deck-edge elevators for aircraft carriers. 1943 First volume production of pure uranium 1944 First U.S. steam locomotive with geared-turbine drive. 1947 First all-weather airport approach lighting. First coal-fired steam-turbine electric locomotive. 1948 First electronic amplifier for X-ray images. 1949 First operatorless elevator systems for heavy traffic. 1950 First operational "look down" radar. 1952 First zirconium metal for nuclear reactors. 1953 First atomic engine (Nautilus prototype). 1954 First privately-financed atomic-equipment plant. Nautilus, first nuclear submarine, went to sea, using propulsion equipment by Westinghouse. 1957 First nuclear power plant in U.S. began to produce electricity, at Shippingport, Pa. 1965 First rendezvous radar for space, Gemini 6 and 7. First automated "people mover" system. 1968 First all-solid-state airborne armament control radar. 1969 Westinghouse cameras enable TV viewers to watch man's first walk on moon. 1975 First full-scale large-turbine test facility 1977 First airborne surveillance system (AWACS). First light-water breeder reactor. First Ultralume lamp (near-perfect daylight). 1978 First watt-hour meter using advanced microprocessor technology. 1980 First American contract from People's Republic of China for technology transfer and supply of components for steam turbines and generators. 1988 First Malcolm Baldrige National Quality Award presented to Westinghouse Commercial Nuclear Fuel Division. History from
OldCompany.com
(old stock certificate research service).