Beautifully printed certificate from the Windsor Square Investment Company issued in 1911. This historic document was printed by the Union Litho Company - Los Angeles and has an embossed corporate seal with the company's name on top center. This item has the signatures of the Company's President, Louis Isaac and Secretary, L.B. Belcher. Shares were issued at a cost of $1,000/share.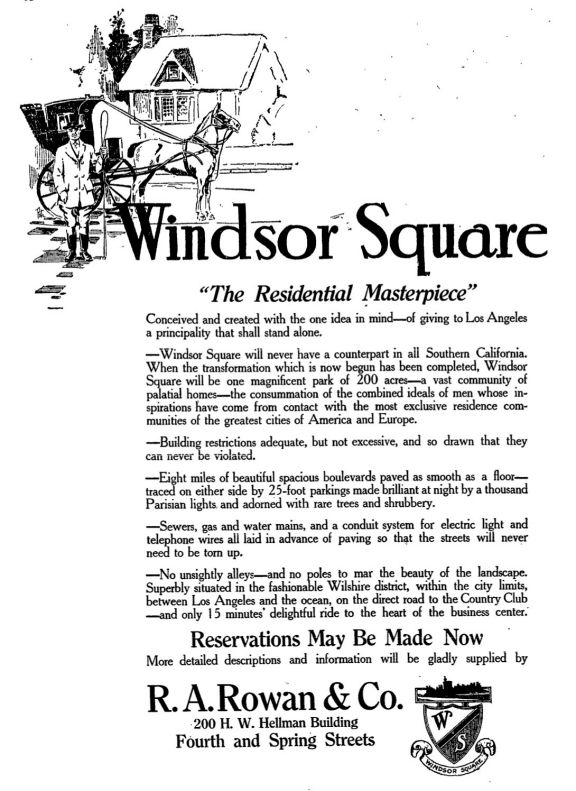 Copy of old Windsor Square advertisement shown for illustrative purposes
Windsor Square is a neighborhood in the city of Los Angeles in the Central L.A. region of Los Angeles County. It contains Park Mile and Ridgewood-Wilton. The neighboring communities are East Hollywood, Hancock Park, Koreatown, Larchmont and Mid-Wilshire. Windsor Square is a neighborhood of 1100 homes between Beverly Boulevard to the north, Wilshire Boulevard to the south, Arden Boulevard to the west and Van Ness Avenue to the east. In 1885, during the height of the Los Angeles' first big land boom, a syndicate of real estate investors bought 200 acres of property between Wilshire and Beverly, Plymouth and Bronson. This group was called the the Windsor Square Land Company. In 1911, that group sold the land to the Windsor Square Investment Company, which began the subdivision process. Nearby, to the south, the construction of homes in Fremont Place began about 1910. To the west, the Hancock Park subdivision, from Rossmore to Highland, did not start until about 1921. The creation of the community that has become today's Windsor Square was not just the product of "business, subdivision, land records, and finance." There was an element of romance and vision in its creation as well. In 1911, Mr. Robert A. Rowan initiated a unique residential development and called it Windsor Square. "The "Square" ran from Wilshire Blvd. to Third Street, and from Irving Blvd. to Plymouth Blvd. This constituted a private square in which the property owners would own the streets as well as their homes. Deed restrictions set a minimum cost of $12,550 on each home to be built, in order to assure handsome homes in an exceptionally beautiful setting. "At that time there were dense groves of bamboo in the area which needed to be destroyed before trees and gardens could be cultivated. Intervening walls or fences were discouraged so that one garden ran into another creating a park-like setting. Windsor Square was the first area in the city to have the power lines below grade, an extraordinary innovation for 1911. Soon after the original portion of Windsor Square opened in 1913, the developers planned to proceed with New Windsor Square, north of Third Street. World War I intervened, and New Windsor Square did not open for lot sales until 1920. Nearby tracts within the 200 acres were called Marlborough Square and Windsor Heights.