261 Fifth Avenue Corporation $1000 Specimen bond dated 1942. 261 Fifth Avenue at the corner of East 29th Street in the NoMad neighborhood of Manhattan, New York City is a 28-floor office tower built in 1928-29, an designed by Ely Jacques Kahn in Art Deco style. The building is located within the Madison Square North Historic District.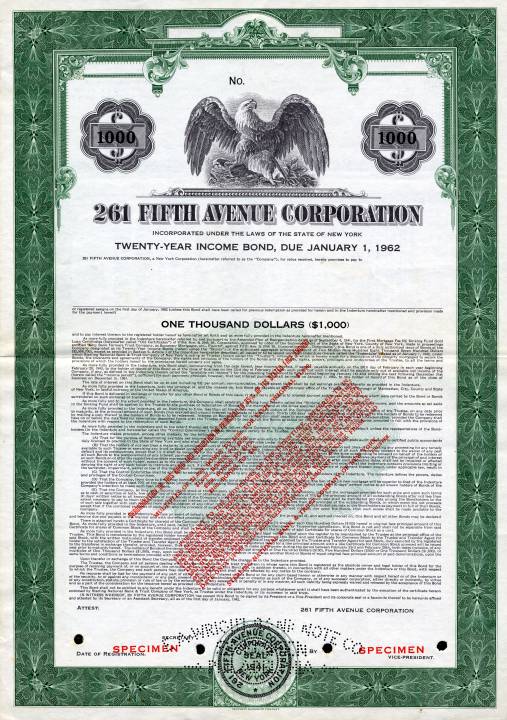 Certificate
History from OldCompany.com and
SavingsBonds.pro
(collectible Savings Bonds website)
About Specimen Certificates
Specimen Certificates are actual certificates that have never been issued. They were usually kept by the printers in their permanent archives as their only example of a particular certificate. Sometimes you will see a hand stamp on the certificate that says "Do not remove from file". Specimens were also used to show prospective clients different types of certificate designs that were available. Specimen certificates are usually much scarcer than issued certificates. In fact, many times they are the only way to get a certificate for a particular company because the issued certificates were redeemed and destroyed. In a few instances, Specimen certificates were made for a company but were never used because a different design was chosen by the company. These certificates are normally stamped "Specimen" or they have small holes spelling the word specimen. Most of the time they don't have a serial number, or they have a serial number of 00000.