Beautifully engraved certificate from the Fifth Avenue Coach Lines, Inc. This historic document was printed by the Security Banknote Company and has an ornate border around it with a vignette of an open-air double-decker bus. This item has the printed signatures of the Company's President, and Secretary, J.A. Meade.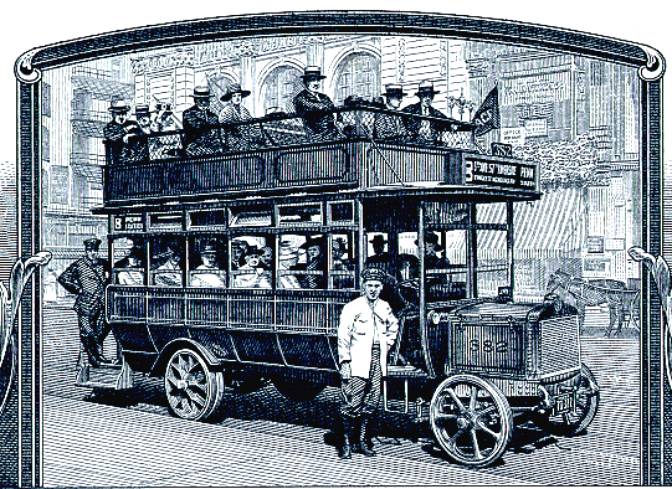 Certificate Vignette
The Fifth Avenue Coach Company was a bus operator in Manhattan, The Bronx, and Westchester County, New York, providing public transit between 1896 and 1954 after which services were taken over by the New York City Omnibus Corporation. It succeeded the Fifth Avenue Transportation Company. A single-deck Fifth Avenue Coach bus operated in the late 1950s, running here in special holiday service in November 2009.The company was founded in 1896 when it succeeded the bankrupt Fifth Avenue Transportation Company. It initially operation of exising horse-and-omnibus transit along Fifth Avenue, with a route running from 89th Street to Bleecker Street using horse-drawn omnibuses. Fifth Avenue is the only avenue in Manhattan to never see streetcar service due to the opposition of residents to the installation of railway track for streetcars. The company introduced electric buses two years later are were acquired by the newly formed New York Transportation Company a year after 1899. They introduced a fleet of 15 of their own motorbuses in 1907 that operated along Fifth Avenue and on some crosstown routes. The company became independent of the New York Transportation Company in 1912. In 1925, the year that they came under control of The Omnibus Corporation, the company purchased a majority share in the New York Railways Corporation. When the New York Railways Corporation started converting streetcar lines to buses in 193536, the new replacement bus services were operated by the New York City Omnibus Corporation, which had been formed in 1926 and had shared management with The Omnibus Corporation. New York Railways Corporation was dissolved in 1936. In 1954 The Omnibus Corporation sold the Fifth Avenue Coach Company to the New York City Omnibus Corporation which changed its name to 'Fifth Avenue Coach Lines' two years later. After a strike in 1962, and a fight for control with fanancier Harry Weinberg, bus operations were taken over by the city. History from Wikipedia and
OldCompany.com
(old stock certificate research service).
---
About Specimen Certificates
Specimen Certificates are actual certificates that have never been issued. They were usually kept by the printers in their permanent archives as their only example of a particular certificate. Sometimes you will see a hand stamp on the certificate that says "Do not remove from file". Specimens were also used to show prospective clients different types of certificate designs that were available. Specimen certificates are usually much scarcer than issued certificates. In fact, many times they are the only way to get a certificate for a particular company because the issued certificates were redeemed and destroyed. In a few instances, Specimen certificates were made for a company but were never used because a different design was chosen by the company. These certificates are normally stamped "Specimen" or they have small holes spelling the word specimen. Most of the time they don't have a serial number, or they have a serial number of 00000. This is an exciting sector of the hobby that has grown in popularity over the past several years.