Beautiful certificate from the AirTouch Communications issued in 1994. This historic document was printed by American Banknote Company and has an ornate border around it with a vignette of an allegorical woman next to the Golden Gate Bridge. This item has the signatures of the Company's Chairman, Sam Ginn and Secretary and is over 18 years old. Folds from original mailing.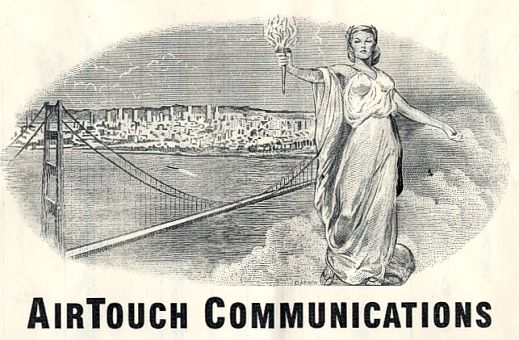 Certificate Vignette
AirTouch Communications was a U.S.-based wireless service provider that was created when PacTel Cellular was spun off from Pacific Telesis on April 1, 1994, forming both AirTouch Cellular and AirTouch Paging from "PacTel Cellular" and "PacTel Paging". On June 30, 1999, AirTouch Communications merged with UK-based Vodafone Group Plc, and the new company was called Vodafone AirTouch Plc. In September 1999, Vodafone AirTouch announced a $70-billion joint venture with Bell Atlantic Corp. to be called Verizon Wireless, and which would be comprised of the two companies' U.S. wireless assets: Bell Atlantic Mobile, AirTouch Cellular, PrimeCo Communications, and AirTouch Paging. This wireless joint venture received regulatory approval in six months, and began operations as Verizon Wireless on April 4, 2000. On June 30, 2000, the addition of GTE Wireless' assets, in connection with the merger of Bell Atlantic and GTE to form Verizon Communications, made Verizon Wireless the nation's largest wireless communications provider (until Cingular's acquisition of AT&T Wireless in 2004). For the joint venture, Verizon Communications owns 55% and UK-based Vodafone Group (formerly Vodafone AirTouch) owns 45%.