Beautifully engraved certificate from Arpeja-California, Inc. issued in 1973. This historic document was printed by the American Banknote Company and has an ornate border around it with a vignette of a man and woman. This item has the printed signatures of the Company's President, Jack Litt and Secretary, Diane L. Carter, and is over 39 years old.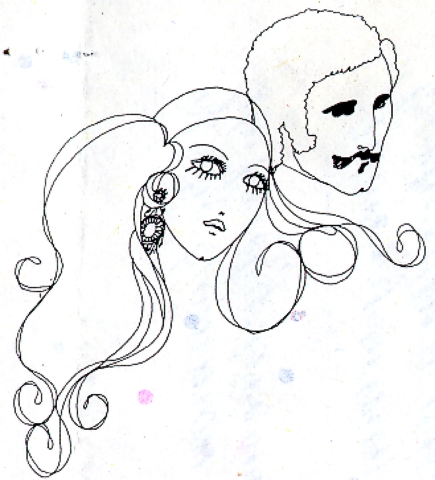 Certificate Vignette
Arpeja was a California company popular in the 1960s and 1970s. Their divisions included Young Edwardian (formed in 1964), Young Victorian (1967), Organically Grown (1971), and Young Innocent (1963). The owner of the company was Jack Litt, and Sue Wong was the chief designer for Young Edwardian between 1972 and 1979. Their lines were all youth oriented, very trendy and affordable. The Organically Grown brand was first established in 1971 by Arpeja-California, Inc., a women's apparel manufacturer in Los Angeles whose labels included Young Innocent, Young Victorian, and Young Edwardian, where designer Sue Wong cut her teeth, and created by Arpeja owner Jack Litt. At one point, Organically Grown was reported to have annual sales of nearly $100 million. Lynda Carter, star of the 1970s hit television show, "The New Adventures of Wonder Woman", served as a spokesperson and modeled for advertisements for the brand in 1977 and 1978. In 1992, Organically Grown's trademarks were sold by Arpeja-California, Inc. to Marshalls of MA., Inc. (discount department stores) which was then acquired by The TJX Companies Inc. (TJ Maxx) in 1995. In October 2007, Organically Grown Group, LLC acquired all rights owned by The TJX Companies, Inc. and Marshalls of MA., Inc. in the Organically Grown trademarks. In 2007, Julia and Robert Stein co-founded Organically Grown as a lifestyle brand that brings organic products to the global marketplace.