Beautiful engraved RARE specimen certificate from the Superscope, Inc incorporated in 1954. This historic document was printed by Jeffries Bank Note Company and has an ornate border around it with a vignette of an old tape recorder. This item has the printed signatures of the Company's President, Joseph Tushinsky and Secretary, Irving Tushinsky and is over 45 years old. This is the first time we have had this certificate for sale.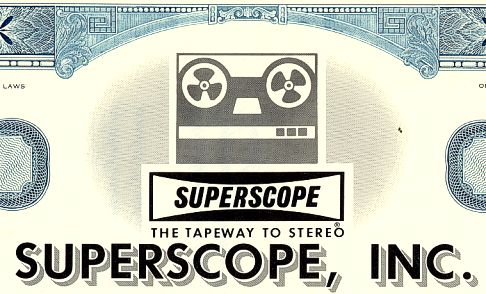 Certificate Vignette
Joseph S. Tushinsky, for many years was the chairman of the board of the Superscope Corporation and the Marantz Company, played a major role in developing the high-fidelity industry in the United States by becoming the first American importer of Sony audiotape recorders in the late 1950's. Mr. Tushinsky was born in New York City, and became a trumpeter with orchestras in St. Louis and New York, including the NBC Symphony Orchestra under Toscanini. Light Opera and Movies He embarked on a career in light opera, forming the Paper Mill Playhouse Light Opera Company in Millburn, N.J., in 1941, and conducting the Carnegie Hall Light Opera during 1942. He subsequently wrote several screenplays, including ''My Wild Irish Rose,'' which were made into motion pictures in the 1940's. He went to Hollywood in 1943 and served as associate producer for ''Delightfully Dangerous,'' starring Jane Powell, and other movies. With his brother Irving, Mr. Tushinsky developed a process known as Superscope, which optically squeezed film images for wide-screen projection. Superscope, which was introduced in 1953 and was in competition with the ultimately more successful Cinemascope process, helped to usher in the era of wide-screen pictures. While marketing the Superscope wide-screen process in Japan in 1957, Mr. Tushinsky discovered a small Japanese company called Sony and became intrigued with its stereo tape recorders. He became Sony's first American importer, although Sony soon established its own international distribution arm. Building Marantz In 1964, Superscope purchased the Marantz Company, and the merged company, under the Marantz name, became a major manufacturer of high-fidelity stereo components. In the late 1970's, Mr. Tushinsky also developed a player-pianolike device that used cassettes, called the Pianocorder Reproducing System. He retired as chairman of Marantz in 1987, when he sold the company to Cobra/Dynascan.
---
About Specimens
Specimen Certificates are actual certificates that have never been issued. They were usually kept by the printers in their permanent archives as their only example of a particular certificate. Sometimes you will see a hand stamp on the certificate that says "Do not remove from file". Specimens were also used to show prospective clients different types of certificate designs that were available. Specimen certificates are usually much scarcer than issued certificates. In fact, many times they are the only way to get a certificate for a particular company because the issued certificates were redeemed and destroyed. In a few instances, Specimen certificates we made for a company but were never used because a different design was chosen by the company. These certificates are normally stamped "Specimen" or they have small holes spelling the word specimen. Most of the time they don't have a serial number, or they have a serial number of 00000. This is an exciting sector of the hobby that grown in popularity over the past several years.