Beautifully engraved Specimen Bond Certificate from the Aluminum Company of America (ALCOA) printed in 1957. This historic document was printed by the Security Banknote Company and has an ornate border around it with a vignette of men pouring molten metal. This item has the printed signatures of the Company's President and Secretary.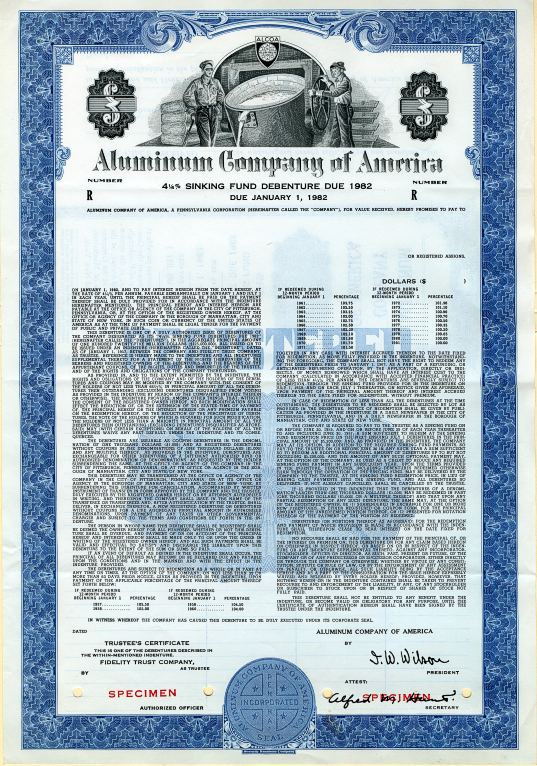 Certificate
Alcoa Corporation (from Aluminum Company of America) is an American industrial corporation. It is the world's fifth largest producer of aluminum, with corporate headquarters in Pittsburgh, Pennsylvania. Alcoa conducts operations in 10 countries. Alcoa is a major producer of primary aluminum, fabricated aluminum, and alumina combined, through its active and growing participation in all major aspects of the industry: technology, mining, refining, smelting, fabricating, and recycling. In May 2007 Alcoa Inc. made a US$27 billion hostile takeover bid for Alcan in an attempt to form the world's largest aluminum producer. The bid was withdrawn when Alcan announced a friendly takeover by Rio Tinto in July 2007. On November 1, 2016, Alcoa Inc. split into two new entities: Alcoa Corporation, which is engaged in the mining and manufacture of raw aluminum, and Arconic, which processes aluminum and other metals. In April 2017, Alcoa announced it will move its headquarters back to Pittsburgh effective September 1. History from Wikipedia and
OldCompany.com
(old stock certificate research service)
About Specimen Certificates
Specimen Certificates are actual certificates that have never been issued. They were usually kept by the printers in their permanent archives as their only example of a particular certificate. Sometimes you will see a hand stamp on the certificate that says "Do not remove from file". Specimens were also used to show prospective clients different types of certificate designs that were available. Specimen certificates are usually much scarcer than issued certificates. In fact, many times they are the only way to get a certificate for a particular company because the issued certificates were redeemed and destroyed. In a few instances, Specimen certificates were made for a company but were never used because a different design was chosen by the company. These certificates are normally stamped "Specimen" or they have small holes spelling the word specimen. Most of the time they don't have a serial number, or they have a serial number of 00000. This is an exciting sector of the hobby that has grown in popularity over the past several years.