Beautifully engraved specimen certificate from the Connecticut Yankee Atomic Power Company printed in 1977. This historic document was printed by the Security Columbian Banknote Company and has an ornate border around it with a vignette of an eagle. This item has the printed signatures of the Company's officers.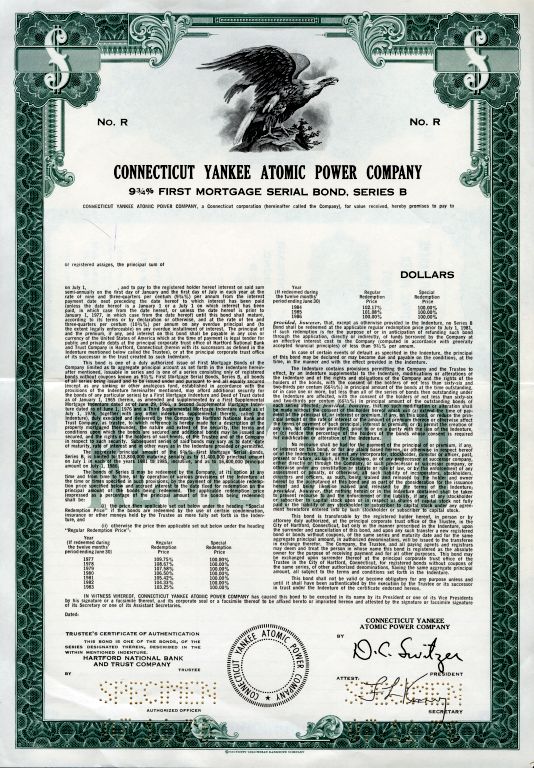 Certificate
The Connecticut Yankee Nuclear Power Plant (CY) was a nuclear power plant located in Haddam Neck, Connecticut, that was commissioned in 1968, ceased electricity production in 1996, and was decommissioned by 2004. The plant had a capacity of 582MW. Demolition of the containment dome was completed the week of July 17, 2006. For nearly 30 years the Connecticut Yankee Atomic Power Company operated a nuclear power plant in Haddam Neck, Connecticut. The first commercial nuclear power plant in the state, it provided decades of reliable service to Connecticut--pumping out over 100 billion kilowatt-hours of electricity over its lifetime--until both economic and safety concerns eventually brought about the plant's decommissioning. The Connecticut Yankee plant began operating on January 1, 1968. Renovations allowed the plant's initial 490,000-watt capacity to increase to 582,000 watts, helping meet the demands of a growing population desperate for alternatives to high-priced oil-dependent sources of power. Radiation Leaks a Factor in Nuclear Power Plant's Decommissioning Nuclear power came with well-publicized risks, however, and radiation leaks in 1978 and 1989 brought with them growing public pressure to close down the Connecticut Yankee plant. By the mid-1990s, new sources of oil and gas helped drive down fuel prices, making nuclear power the more costly choice for energy production. In 1996, the Board of Directors determined the Connecticut Yankee plant was no longer cost-effective and voted to end its 29-year operation. Decommissioning the plant began in 1998. What followed was a long and rigorous process of reducing radiation at the site to make it safe for later public use. The Nuclear Regulatory Commission and numerous other government agencies oversaw the dismantling and decontamination of various structures within the plant, as well as the cleanup of any contaminated soil. The process finally reached its conclusion in 2007. History from Wikipedia, OldCompany.com and
SavingsBonds.pro
(collectible Savings Bonds website)
About Specimen Certificates
Specimen Certificates are actual certificates that have never been issued. They were usually kept by the printers in their permanent archives as their only example of a particular certificate. Sometimes you will see a hand stamp on the certificate that says "Do not remove from file". Specimens were also used to show prospective clients different types of certificate designs that were available. Specimen certificates are usually much scarcer than issued certificates. In fact, many times they are the only way to get a certificate for a particular company because the issued certificates were redeemed and destroyed. In a few instances, Specimen certificates were made for a company but were never used because a different design was chosen by the company. These certificates are normally stamped "Specimen" or they have small holes spelling the word specimen. Most of the time they don't have a serial number, or they have a serial number of 00000. This is an exciting sector of the hobby that has grown in popularity over the past several years.