Beautifully engraved specimen certificate from the Pete's Brewing Company . This historic document was printed by the Security Columbian Banknote Company and has an ornate border around it with a vignette of the company's logo and the words "Wicked Brews Since 1986". This item has the printed signatures of the Company's officers.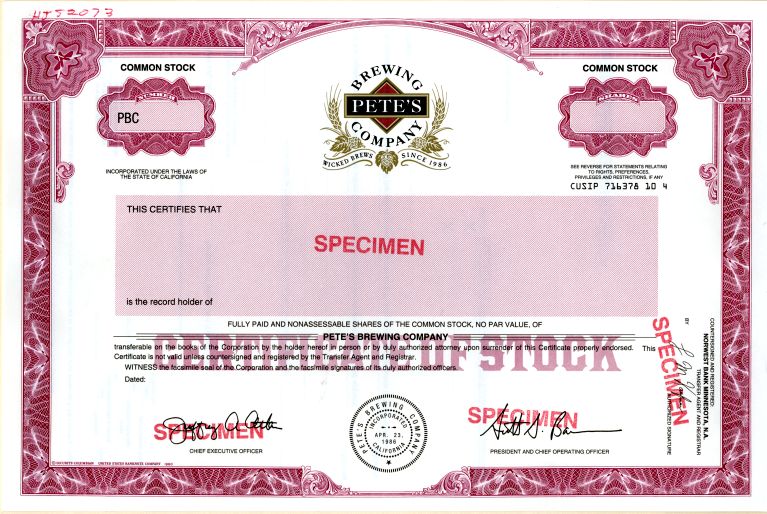 Certificate
Pete's Brewing Company was founded by homebrewer Pete Slosberg and Mark Bronder in 1986. Its major product line was Pete's Wicked Ale, an American Brown Ale that is 5.3% alcohol by volume. The company was acquired by The Gambrinus Company in 1998, a company that owns the Spoetzl Brewery in Texas, the Bridgeport Brewery in Oregon and the Trumer Brauerei in Berkeley. In 2004, Pete's Brewing Company was number 42 in America for sales by volume.[1] Slosberg and Bronder were among the pioneers of the craft beer movement in America, along with others such as Jim Koch of Samuel Adams, Fritz Maytag of Anchor Brewing Company in San Francisco and Larry Bell of the Kalamazoo Brewing Company, now Bell's Brewery Inc. These upstart brewers committed to using all-malt recipes, and to highlighting the hoppy flavors in their beers. Their approach stood in contrast to the larger U.S. breweries, which commonly use adjuncts such as corn and rice to replace malt as an inexpensive fermentable sugar. The signature product was largely responsible for establishing the American Brown Ale as a commercially viable beer style and category for beer competitions. The entire product line was brewed under contract by Matt Brewing Company in Utica, New York. Slosberg is a graduate of Columbia University's School of Engineering and Applied Science. History from Encyberpedia and
OldCompany.com
(old stock certificate research service)
About Specimen Certificates
Specimen Certificates are actual certificates that have never been issued. They were usually kept by the printers in their permanent archives as their only example of a particular certificate. Sometimes you will see a hand stamp on the certificate that says "Do not remove from file". Specimens were also used to show prospective clients different types of certificate designs that were available. Specimen certificates are usually much scarcer than issued certificates. In fact, many times they are the only way to get a certificate for a particular company because the issued certificates were redeemed and destroyed. In a few instances, Specimen certificates were made for a company but were never used because a different design was chosen by the company. These certificates are normally stamped "Specimen" or they have small holes spelling the word specimen. Most of the time they don't have a serial number, or they have a serial number of 00000. This is an exciting sector of the hobby that has grown in popularity over the past several years.