Beautifully engraved Specimen Stock Certificate from the Olympia Brewing Company printed in 1982. This historic document was printed by the American Banknote Company and has an ornate border around it with a vignette of a small waterfall, with a horseshoe over the top of it. This item has the printed signatures of the Company's Chairman and Secretary and is over 37 years old.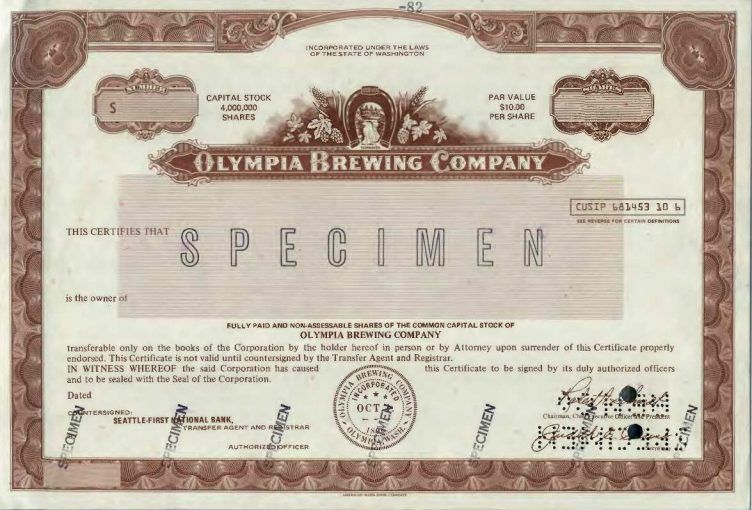 Certificate
The first well in Olympia was drilled in 1895. The city used Watershed Park, known historically as Moxlie Creek, and surrounding artesian wells as its water source from 1913 to the late the 1930s, and in 1949 the city's water operation was moved to McAllister Springs. One of the most notable uses of artesian water was by the Olympia Brewing Company. Founder Leopold Schmidt, a Montana brewer, made Olympia famous with his simple slogan: "It's the water." Olympia beer's purity, rare flavor and light, sparkling qualities made Olympia Brewery an overnight success. It was founded in 1894 as the Capital Brewing Company by Leopold F. Schmidt. After establishing itself in the Far West, the company expanded to the booming gold rush towns of Alaska. In 1901, it effected facility expansions in Washington and Oregon - and was renamed the Olympia Brewing Company. The company was nearly wrecked by state prohibition in 1916, pushing the economies of Tumwater and Olympia into a minor depression. However, it sprang from Prohibition in 1933 with a new, thoroughly modern brewing plant. It is now owned and operated by Miller Brewing Company History from Wikipedia and
OldCompany.com
(old stock certificate research service)
About Specimen Certificates
Specimen Certificates are actual certificates that have never been issued. They were usually kept by the printers in their permanent archives as their only example of a particular certificate. Sometimes you will see a hand stamp on the certificate that says "Do not remove from file". Specimens were also used to show prospective clients different types of certificate designs that were available. Specimen certificates are usually much scarcer than issued certificates. In fact, many times they are the only way to get a certificate for a particular company because the issued certificates were redeemed and destroyed. In a few instances, Specimen certificates were made for a company but were never used because a different design was chosen by the company. These certificates are normally stamped "Specimen" or they have small holes spelling the word specimen. Most of the time they don't have a serial number, or they have a serial number of 00000.