Beautifully engraved SCARCE $1000 Specimen Bond Certificate from the European Investment Bank printed in 1977 and 1978. This historic document was printed by the Security Colombian Banknote Company and has an ornate border around it with a vignette of two allegorical men flanking the organization's logo. This item has the printed signatures of the Company's President and Secretary.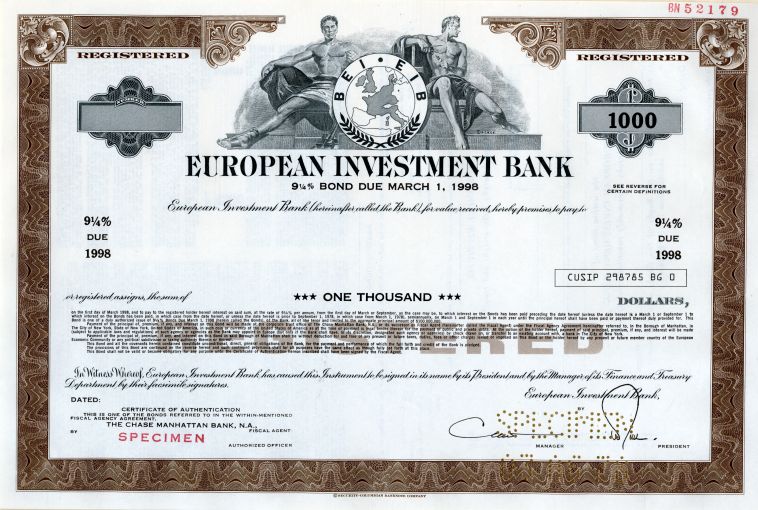 Certificate Vignette
The task of the European Investment Bank, the European Union's financing institution, is to contribute towards the integration, balanced development and economic and social cohesion of the Member Countries. The European Investment Bank is a nonprofit bank created in 1958 by the six founding countries of the European Economic Community (now part of the European Union [EU]). The bank makes or guarantees loans to EU members, principally for projects that will contribute to regional development within the union. Some loans are also made to nonmembers, including countries of the Mediterranean region and central and E Europe and, under the Lomé Convention and Cotonou Agreement, developing countries in Africa, the Caribbean, and the Pacific.
---
About Specimen Certificates
Specimen Certificates are actual certificates that have never been issued. They were usually kept by the printers in their permanent archives as their only example of a particular certificate. Sometimes you will see a hand stamp on the certificate that says "Do not remove from file". Specimens were also used to show prospective clients different types of certificate designs that were available. Specimen certificates are usually much scarcer than issued certificates. In fact, many times they are the only way to get a certificate for a particular company because the issued certificates were redeemed and destroyed. In a few instances, Specimen certificates were made for a company but were never used because a different design was chosen by the company. These certificates are normally stamped "Specimen" or they have small holes spelling the word specimen. Most of the time they don't have a serial number, or they have a serial number of 00000. This is an exciting sector of the hobby that has grown in popularity over the past several years.