Beautifully engraved specimen certificate from the American South African Investment Company Limited printed in 1971. This historic document was printed by the American Banknote Company and has an ornate border around it with a vignette of an allegorical woman flying over a world map. This item has the printed signatures of the Company's officers.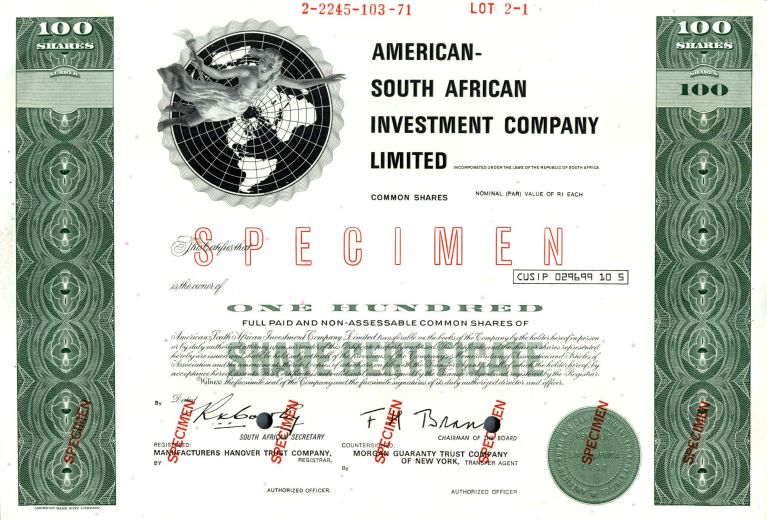 Certificate
ASA Limited was founded as a South African corporation in 1958 (Its original name was American-South African Investment Company, Limited). Originally, ASA's investment policies required it to invest only in South African companies. In 1969 shareholders approved a proposal to allow the Company to invest up to 20 percent of its assets outside of South Africa. Later, as it became evident that gold production in South Africa was declining both absolutely and as a percentage of world production the Company reached out to find opportunities in other parts of the world. In 2004 the Company moved its place of incorporation to Bermuda because of a change in tax law in South Africa that would have adversely affected ASA and its shareholders. Shortly thereafter, in 2005, shareholders approved changes in the Company's investment policies to permit the Company to invest its assets worldwide without geographical restrictions. History from Wikipedia, Encyberpedia and
OldCompany.com
(old stock certificate research service)
About Specimen Certificates
Specimen Certificates are actual certificates that have never been issued. They were usually kept by the printers in their permanent archives as their only example of a particular certificate. Sometimes you will see a hand stamp on the certificate that says "Do not remove from file". Specimens were also used to show prospective clients different types of certificate designs that were available. Specimen certificates are usually much scarcer than issued certificates. In fact, many times they are the only way to get a certificate for a particular company because the issued certificates were redeemed and destroyed. In a few instances, Specimen certificates were made for a company but were never used because a different design was chosen by the company. These certificates are normally stamped "Specimen" or they have small holes spelling the word specimen. Most of the time they don't have a serial number, or they have a serial number of 00000.