Beautifully engraved certificate from the Associated Vineyard Company issued in 1926. This historic certificate was printed by the Pernau Printing Company and has an ornate border around it with a vignette of an eagle. This itemm has the signatures of the Company's President, Walter E. Dom and Secretary C. W. Severance and is over 79 years old.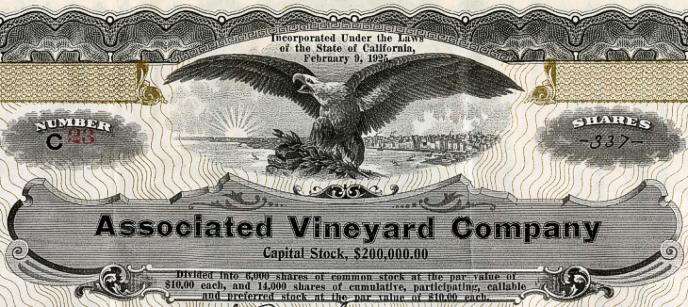 Certificate Vignette
The company was incorporated in 1925 during the midst of Prohibition (1920 - 1933). While the primary purpose of vineyards throughout history has been the production of grapes for wine, this company was probably hoping Prohibition would end shortly. During the interim, they were likely selling grapes for eating and made some wine on the side for special occassions.
The Prohibition Act of 1920 marked an interesting chapter in American history. As early as 1916, long before Alcoholics Anonymous, twenty-three states had passed antisaloon laws to eliminate alcohol consumption. This controversial legislation was an attempt to reduce crime and corruption while improving the nation's health. In 1820, the Federal Government passed the 18th Amendment to the Constitution, known as the Prohibition Act. This widely supported "noble experiment" as Herbert Hoover called it, prohibited the manufacture, sale and transportation of liquor. Initially supported by the American public, widespread disillusionment quickly grew. Most communities had thriving "speakeasy" businesses which sold alcohol. These underground saloons did a booming business, creating bitter rivalries, gangland warfare and murders. Notorious gangsters like Alphonse "Scarface Al" Capone made a fortune.
Fortunately, prohibition was finally repealed in 1933 during the middle of the Depression.