Beautifully engraved RARE Specimen stock certificate from the Bath Iron Works Corporation. This historic document was printed by American Bank Note Company and has an ornate border around it with a vignette of a destroyer. This item has the printed signatures of the Company's President and Treasurer.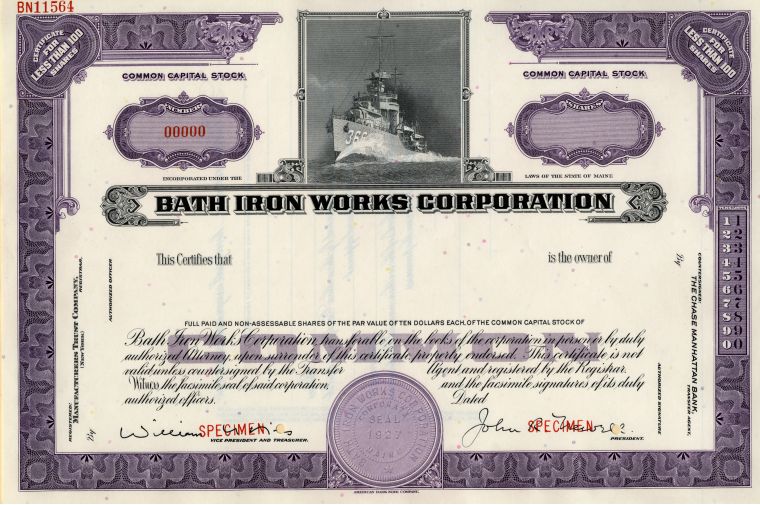 Certificate
Bath Iron Works (BIW) is a major American shipyard located on the Kennebec River in Bath, Maine, United States. Since its founding in 1884 (as Bath Iron Works, Limited), BIW has built private, commercial and military vessels, most of which have been ordered by the United States Navy. The shipyard has built and sometimes designed battleships, frigates, cruisers and destroyers, including the Arleigh Burke class, which are currently among the world's most advanced surface warships. Since 1995, Bath Iron Works has been a subsidiary of General Dynamics, the fifth-largest defense contractor in the world (as of 2008). During World War II, ships built at BIW were considered by sailors and Navy officials to be of superior toughness, giving rise to the phrase "Bath-built is best-built." Bath Iron Works was incorporated in 1884 by General Thomas W. Hyde, a native of Bath who served in the American Civil War. After the war, Hyde bought a local shop that helped make windlasses and other iron hardware for the wooden ships built in Bath's many shipyards. He expanded the business by improving its practices, entering new markets, and acquiring other local businesses. By 1882, Hyde Windlass was eyeing the new and growing business of iron shipbuilding; two years later, it incorporated as Bath Iron Works. On February 28, 1890, BIW won its first contract for complete vessels, two iron gunboats for the U.S. Navy. The Machias, one of these 190-foot (58 m) gunboats, was the first ship launched by the company. (Historian Snow (see "Further Reading") says the gunboat was commanded during World War I by Chester Nimitz, an assertion that is not supported by Nimitz's biographers. In 1892, the yard won its first commercial contract for a steel vessel, the 2,500-ton steel passenger steamer City of Lowell. In the 1890s, the company built several yachts for wealthy sailors. In 1899, General Hyde, suffering from the Bright's Disease that would kill him later that year, resigned from management of the shipyard, leaving his sons Edward and John in charge. That year the shipyard began construction of the Georgia, the only battleship to be built in Bath. The ship dominated the yard for five years until its launching in 1904, and was at times the only ship under construction. The yard faced numerous challenges because of the weight of armor and weapons. In sea trials, the Georgia averaged 19.26 knots (35.67 km/h) for four hours, making her the fastest ship in her class and the fastest battleship in the Navy. The company continued to rely on Navy contracts, which provided 86% of the value of new contracts between 1905 and 1917. The yard also produced fishing trawlers, freighters, and yachts throughout the first half of the century. At peak production during World War II (19431944), the shipyard launched a destroyer every 17 days. Bath Iron Works ranked 50th among United States corporations in the value of World War II military production contracts. In 1981, Falcon Transport ordered two tankers, the last commercial vessels built by BIW. MV Mighty Servant 2 carrying mine-damaged Roberts on 31 July 1988 In 1988, the USS Samuel B. Roberts (FFG-58), commissioned two years earlier at Bath, survived a mine explosion that tore a hole in its engine room and flooded two compartments. Over the next two years, BIW repaired the Roberts in unique fashion. The guided missile frigate was towed to the company's dry dock in Portland, Maine, and put up on blocks, where its damaged engine room was cut out of the ship. Meanwhile, workers in Bath built a 315-ton replacement. When it was ready, the module was floated south to Portland, placed on the dry dock, slid into place under the Roberts, jacked up, and welded into place. By surviving a hit that Naval Sea Systems Command engineers thought should have sunk her, the Roberts validated the penny-pinching design of the Oliver Hazard Perry class, the U.S. Navy's largest post-WWII class until the Burkes; and validated the Navy's against-the-odds decision to have picked BIW to design it. In 2001, BIW wrapped up a four-year effort to build an enormous concrete platform, the Land Level Transfer Facility, for final assembly of its ships. Instead of being built on a sloping way so that they could slide into the Kennebec at launch, hulls were henceforth moved by rail from the platform horizontally onto a moveable dry dock. This greatly reduced the work involved in building and launching the ships.[4] The 750-foot, 28,000-ton dry dock was built by China's Jiangdu Yuchai Shipbuilding Company for $27 million. The Centennial Shipbuilders Workers Monument in Bath, Maine is by American artist Guillermo Esparza and is part of the Smithsonian American Art Museum collection. Time Line 1826 Bath Iron Foundry is founded on the Kennebec River, Maine 1865 General Thomas Worcester Hyde, a civil war hero, purchases Bath Iron Foundry 1882 Goss Marine Iron Works is founded nearby 1884 General Hyde renames Bath Iron Foundry as Bath Iron Works and incorporates company 1888 New England Shipbuilding Company, with General Hyde as an investor, acquires Goss Marine Iron Works 1888 BIW acquires New England Shipbuilding Company 1890 Steamer "Cottage City" is the first BIW-built hull 1893 USS Machias, a gunboat, is the first BIW-built U.S. Navy ship 1894 "City Of Lowell" is the first BIW-built commercial steel vessel 1901 BIW is acquired by United States Shipbuilding Trust 1905 John S. Hyde, eldest son of General Hyde, purchases BIW 1906 USS Georgia, the first and only BIW-built battleship, is delivered 1917 BIW is sold to a syndicate of Maine investors upon the death of John Hyde 1925 BIW is sold at a public auction, operations are idled 1927 BIW is leased by William S. "Pete" Newell and a group of investors, company is incorporated again 1940 Second BIW facility, the Hardings plant, is built in East Brunswick, ME 1940-1945 82 destroyers are built during WWII, totaling more than the entire Japanese Empire 1955 First of a new class of Navy destroyers, USS Forest Sherman, is delivered 1967 Bath Industries, Inc. is established as a holding company for BIW, Pennsylvania Crusher and the Hyde Windlass Co. 1968 Bath Industries, Inc. acquires Congoleum-Nairn, a manufacturer of home furnishings 1975 Bath Industries, Inc. changes its name to Congoleum Corporation 1977 Lead ship of a new Navy class of guided missile frigates, USS Oliver Hazard Perry, is delivered 1983 Floating dry dock is opened in Portland, ME 1984 Tanker "Falcon Champion," is the last BIW-built commercial ship delivered 1986 BIW is acquired by Prudential Insurance 1987 Last Oliver Hazard Perry class ship, USS Kauffman, is delivered 1987 First BIW-built, guided missile "AEGIS" cruiser, USS Thomas Gates, is delivered 1991 The lead ship of a new Navy class of guided missile "AEGIS" destroyers, USS Arleigh Burke, is delivered 1993 Last BIW-built AEGIS cruiser, USS Lake Erie, is delivered 1995 Bath Iron Works becomes a wholly-owned subsidiary of General Dynamics 1996 Awarded contract under an Avondale Shipyard-led alliance to build four of the Navy's new dock landing ships, the San Antonio-class (LPD 17) 1998 Groundbreaking for Land Level Transfer Facility. 2001 BIW hosts dedication ceremony for Land Level Transfer Facility (LLTF) and the Manufacturing Support Center (MSC) 2001 BIW Launches MASON (DDG 87). Last ship to slide down incline ways 2002 Realignment of DDG 51 and LPD 17 construction contracts. 2002 BIW Christens CHAFEE (DDG 90) First ship on Land Level Transfer Facility 2003 BIW subcontract for DD(X) Phase III program History from Wikipedia, Encyberpedia and
OldCompany.com
(old stock certificate research service)
About Specimen Certificates
Specimen Certificates are actual certificates that have never been issued. They were usually kept by the printers in their permanent archives as their only example of a particular certificate. Sometimes you will see a hand stamp on the certificate that says "Do not remove from file". Specimens were also used to show prospective clients different types of certificate designs that were available. Specimen certificates are usually much scarcer than issued certificates. In fact, many times they are the only way to get a certificate for a particular company because the issued certificates were redeemed and destroyed. In a few instances, Specimen certificates were made for a company but were never used because a different design was chosen by the company. These certificates are normally stamped "Specimen" or they have small holes spelling the word specimen. Most of the time they don't have a serial number, or they have a serial number of 00000.