Beautiful certificate from the Belmont Park Association issued in 1878. This historic document was printed by J. H. Camp - Philadelphia and has an ornate border around it with a vignette of horses facing each other. This item has the signatures of the Company's President and Secretary, and is over 138 years old.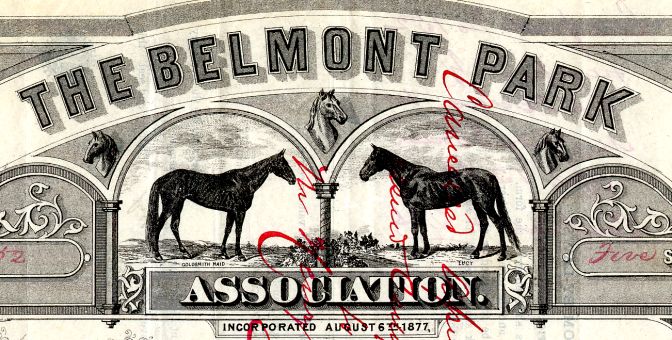 Certificate Vignette
Just behind the General Wayne Inn and across Meetinghouse Lane William McDowell sold seventy one acres in 1876 to the Belmont Driving Park Association for harness racing, then the most popular sport in America. An oval course eighty feet wide and one mile in length was laid out; later a half-mile track was built inside the larger course. The association built a frame grandstand and later added a four-story clubhouse with tower, cupola, and two long verandas overlooking the track. The culminating event in the nearly fifty years of the Belmont's history was the Grand Circuit of 1917, then as prestigious as the Kentucky Derby. In 1924 the park was sold to Martin Maloney, who developed it into 347 building lots in the section called Merion Park. The Belmont Driving Park A mile-long oval race track for harness racing was created in 1876 on land where Washington and his troops, after crossing the Schuylkill, had camped on September 13, 1777 on a site called Price's Field. Built during the Centennial in Philadelphia, the track was on 72 acres along Meeting House Lane, just down the road from Merion Meeting. Horse racing was a popular sport since Colonial times, so these sulky races drew many sportsmen, racers, and spectators. Droves of tourists came by carriage from the city and filled local inns, rooming houses, and the General Wayne. Favorite horses like Star Pointer, the Guideless Wonder, Jay Eye See, May Queen and Maude S. Smuggler were featured stars. For the Grand Circuit of 1917, racers and trotters came by train from stables in New Hampshire, Kentucky, Ohio, and Massachusetts, arriving at the Cynwyd rail station. A half-mile track, within the original oval, was added in 1890. At one time there were 300 members of the Belmont Driving Club. Joshua Evans, the president for many years, was succeeded by the second (and final) one, Frank Bower. But interest in sulky racing began to decline, and even races of automobiles and motorcycles no longer attracted many crowds. In the fall of 1924, the entire acreage was sold to a construction company for $300,000 (a 200% profit for the stockholders). With plans for 374 lots, paved streets and sidewalks, and a number of fine homes, Merion Park became a substantial residential community where, ironically, many of its homeowners never heard of the exciting sulky races of the past. History from Wikipedia and
OldCompany.com
(old stock certificate research service).