Beautiful certificate from the Booth Fisheries Company issued in 1919. This historic document was printed by the Western Bank Note & Eng. Company and has an ornate border around it with a vignette two men fishing . This item has the original signatures of the Company's President, and Treasurer, and is over 93 years old.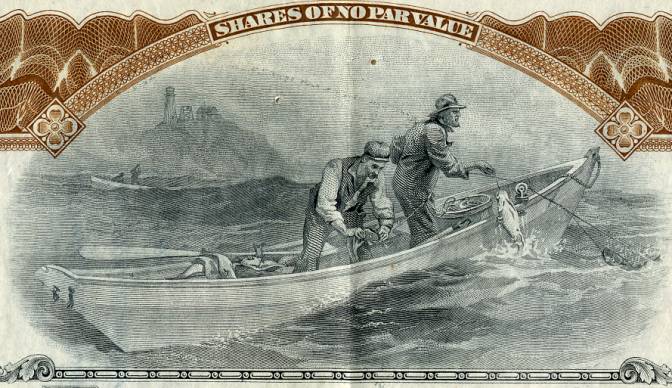 Certificate Vignette
Incorporated in Delaware May 10, 1909, acquiring the A. Booth & Co., Chicago. 111. Later acquired the Northwestern Fisheries Co., through which company acquired the International Fisheries Co., Tacoma, Wash.; Gorman & Co., Macheasport Packing Co. Company owns the Anacortes Fisheries Co., incorporated in Washington, April 15, 1915, and operating five salmon canneries in Alaska and Puget Sound; Booth Cold Storage Co., St. Louis, Mo.; and the Booth Fisheries Co. of Canada; incorporated in Canada as a subsidiary of the company to acquire and operate the New Brunswick Sardine Canning1 Co. Company buys, sells, and cans all kinds of seafood. Owns a large fleet of fishing boats on the Great Lakes and Pacific Ocean. Through the various companies controlled, company operates salmon and sardine canneries in Alaska, Puget Sound, Maine, and New Brunswick. Has five large cold storage and freezing plants. During the 1960s, Sara Lee Corporation acquired Booth Fisheries and reported a 16 percent rise in sales volume for 1962, up to $56.6 million. By following the industry trend toward packaging seafood for the convenience market, Booth Fisheries fought off fish shortages and normally unstable prices, raising division earnings from $2.35 per share to $3.22. History from Wikipedia and OldCompany.com (old stock certificate research service).