Beautiful certificate from the Boulder Consolidated Gold and Silver Mining Company issued in 1880. This historic document was printed by the Franklin Bank Note Company and has an ornate border around it with a vignette of miners working underground. This item has the original signatures of the Company's President, Edwin Lord and Secretary, and is over 132 years old. Countersigned by the Secretary of the Union Trust Co. of New York.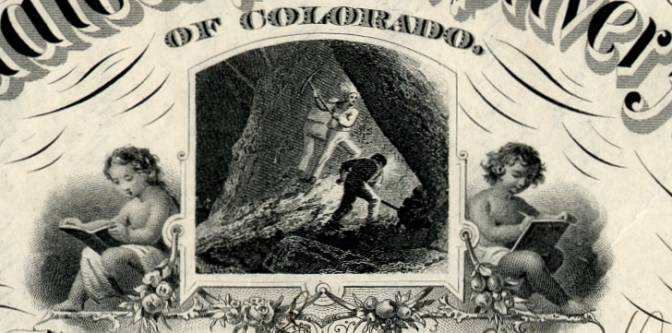 Certificate Vignette
The Boulder Consolidated Gold and Silver Mining Company was incorporated in New York 29 July 1879. The company had offices in New York and Boulder. The firm owned the Trojan and Boulder County lodes that were 1,400 by 50 feet each, "and Western Extension, Conger, Walden, Hamlin, and Pendleton lodes," each 1,500 by 50 feet. The lodes were "situated at Cardinal, in [the]Grand Island Mining District: so 700 acres of mineral land and two placer claims, ten and thirty-two and six-tenths acres, respectively; all patented, excepting the Walden, Hamlin, and Pendleton, and the placer claims; veins all fissures, from four to six feet in width, of galena, iron, and copper pyrites, in a quartz gangue; assays from one-half to four ounces of gold and from five to sixty ounces of silver per ton; developed by 900 feet of tunneling and shafting; [the firm] also own[ed a] stamp and concentrating mill, situated at Nederland, containing twenty-five stamps and operated by water-power; capacity for treating twenty-five tons of ore per day; built by Fraser & Chalmers, of Chicago, Illinois" [Ref: Corregan and Lingane, Colorado Mining Directory, p. 46, 1883].