Beautiful certificate from the Branford Yacht Club, Inc Building Certificate issued in 1946. This historic document was printed by Goes Banknote Company and has an ornate border around it with a vignette of the Bradford Yacht Club Flag. This item has the signatures of the Company's Trustees and is over 63 years old.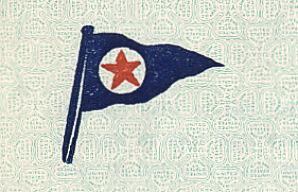 Certificate Vignette
The Branford Yacht Club was founded in 1909 and is located near the mouth of the Branford River. The marina consists of five docks and twenty-three river stakes that can accommodate yachts as large as sixty feet. The club offers membership to residents of New Haven County.