Beautiful certificate from the California Fruit Union issued in 1886. This historic document was printed by A.L. Bancroft & Company and has an ornate border around it with a vignette of a basket of fruit. This item has the signatures of the Company's President, Horatio P. Livermore and Secretary, H. A. Fairbank and is over 122 years old. The certificate was issued to Robert Kayo.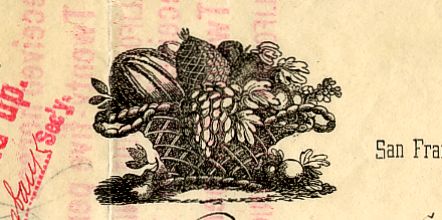 Certificate Vignette
The California Fruit Union was started first an growers organization. In 1887, the by-laws were changed so that shippers could join as stockholders of the Union without owning acreage. Horatio G. Livermore made his fame and fortune developing logging and electrical power (the original Folsom dam) between 1867 and 1892. His son, Horatio P., joined that business and continued it after his father's death in 1892. In 1897, the business had serious cash flow problems that drained the family financial reserves. To conserve cash, Horatio P. Livermore sold his Rockridge Park estate in Oakland and moved to 40 Florence with his second wife, Helen Eells Livermore, and their children. Livermore had purchased 40 Florence in 1889 and had engaged Willis Polk to remodel the interior in exchange for rent. Livermore had additions made in 1897-1898 and again in 1903. By 1903, when he had returned his business to profitability, he turned his attention to improving the neighborhood. That included two major projects improving the Vallejo Street access to the Summit and replacing the small 1850s and 1860s houses between Florence and Jones Streets. Livermore raised funds from the neighbors for the Vallejo Street improvements. He employed Willis Polk to design the street improvements: a replacement for the goat path from Taylor Street west to the Crest, the ramparts and balustrades at the Jones Street and the Taylor Street entrances, and the balustrade and turnaround at the Crest. The earthquake of 1906 interrupted those improvements. They were finally completed in 1914 or 1915. Meanwhile, Horatio Livermore began to acquire the properties on the other side of Florence Street. The fire of 1906 destroyed all the properties between Florence and Jones, Broadway and Vallejo. Between 1912 and 1915, Horatio and his son Norman developed thirteen properties on Florence, Jones, Vallejo, and Russian Hill Place. They commissioned Charles L. Whittlesey to design six Pueblo/Mission Revival style houses on Florence and Jones, Charles W. McCall to design three Mission/Spanish Colonial Revival style houses on Jones and Vallejo, and Willis Polk to design the four Mission/Spanish Colonial Revival style houses on Russian Hill Place. After Horatio P. Livermore's death, his wife, Helen Eells Livermore, contracted Julia Morgan to design a "widows cottage" at 1023 Vallejo in the First Bay Area Tradition style. In 1927 and 1930, Julia Morgan completed additions. This house is the only remaining Livermore property continuously inhabited by Livermores. In the 1980s, Norman's son, H. Putnam Livermore, was the initial developer for "The Hermitage," seven condominiums located at 1020 Vallejo. Continuing the tradition of excellent architecture, this building has received numerous architectural awards. History from Russian Hill Neighbors and Wikipedia.