Beautiful warrant certificate from the Canadian Husky Oil Ltd. printed in 1958. This historic document was printed by the Canadian Banknote Company and has an ornate border around it with the company's name on top center. This item has the printed signatures of the Company's officers.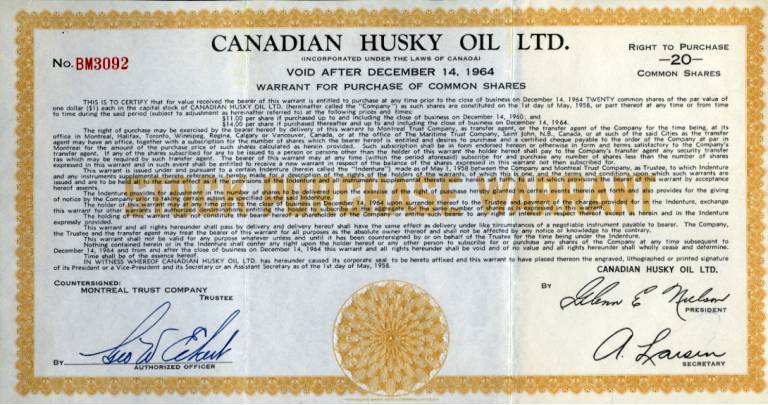 Certificate
Canadian Husky Oil Ltd. was incorporated in Canada in 1953. The company changed its name to Husky Oil Canada Ltd. in 1963. In 1968, the company changed its name to Husky Oil Ltd. In 1987, the company amalgamated with UFSC Holdings Inc. to continue as Husky Oil Ltd. The company also became became a wholly owned subsidiary of Nova Corporation of Alberta and Hong Kong-based Hutchison Whampoa Limited. Subsequently in 1991, Nova sold its interests in Husky to the Hong Kong based Li Ka-Shing Group, making it a wholly owned subsidiary. The company then changed its name to Husky Oil Limited in 1998. In 2000, Husky Oil Limited merged with Renaissance Energy Ltd. to form Husky Energy Inc. History from Encyberpedia and
OldCompany.com
(old stock certificate research service).