Beautiful warrant certificate from Husky Oil & Refining Ltd printed in 1955. This historic document was printed by the Canadian Banknote Company and has an ornate border around it with the company's name on top center. This item has the printed signatures of the Company's officers.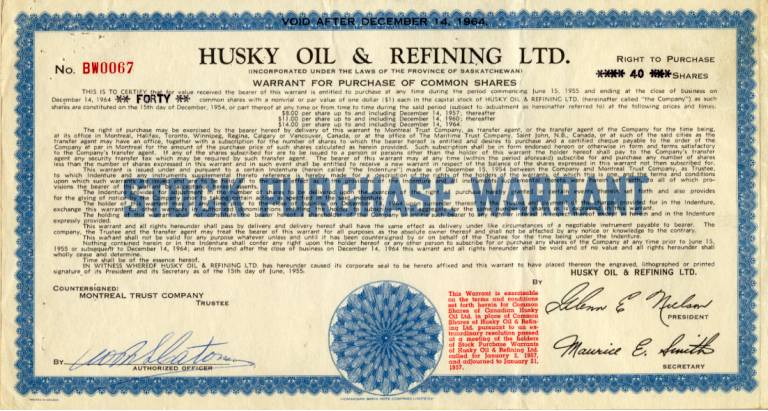 Certificate
Now a publicly traded Canadian company with global interests, Husky Energy was originally founded in 1938 in Cody, Wyoming, in the United States, as the Husky Refining Company. Its primary founder was Glenn Nielsen. The first refinery was built in Cody, with a second constructed later in Riverton, Wyoming. In 1946, the Riverton refinery was moved to Lloydminster, Alberta, Canada, to take advantage of the expanding asphalt and heavy oil opportunities in the area. A wholly owned subsidiary, Husky Oil and Refining Ltd., was created and headquartered in Calgary, Alberta, Canada. The Cody refinery continued operations well into the 1970s, producing primarily asphalt. In the late 1980s and early 1990s, there were periodic rumors floating around Cody that the refinery would be reopened by a variety of different companies. One of the more persistent rumors was the impending purchase and reactivation of the refinery by Flying J.[citation needed] This never happened, however, and the entire refinery was finally razed in the late 1990s. In 1998 Husky purchased Mohawk Oil, the largest independent chain of filling stations in Western Canada. Mohawk continues as a banner of filling stations within the Husky company. History from Encyberpedia and
OldCompany.com
(old stock certificate research service).