Beautifully engraved certificate from the Cavanagh - Dobbs, Incorporated issued in 1929. This historic document was printed by the American Banknote Company and has an ornate border around it with a vignette of an angelic man and woman leaning against the company logo with a halo on top of it. This item has the signatures of the Company's Vice President, John Cavanagh and Assistant Secretary, and is over 80 years old.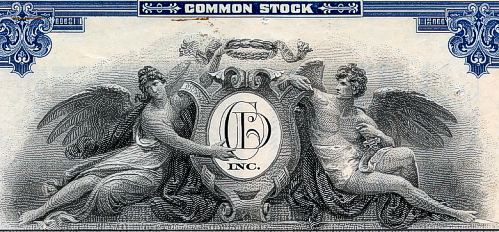 Certificate Vignette
John Cavanagh (16 January 1864-1957) was an American gentleman's hatter based in New York. In 1880 he began working for Crofut & Knapp, where he was mentored by James H. Knapp. By 1907, Cavanagh was vice-president of Crofut & Knapp, and from 1923-1937, he was President of the company. In 1928 Cavanagh created the company of Cavanagh-Dobbs Inc., which included his own hat label, Cavanagh Hats, and a retail outlet in New York City, John Cavanagh Ltd. In 1932, he founded the Hat Corporation of America, merging his brands with Knox & Dunlap. In 1934 the Cavanagh Hat Research Corporation was founded to research materials and manufacturing methods to benefit the industry. He gave his name to a method of finishing hat brims known as the Cavanagh Edge. Cavanagh's other innovations included introducing regular, long and wide-oval fitting hats to enable customers to find better-fitting ready-to-wear hats. In 1939 John Cavanagh was awarded a Neiman Marcus Fashion Award in recognition of his services to the American hat industry. He retired in 1947, though retained a honorary vice-presidency, and died in 1957. His son, J. Garvan Cavanagh, inherited vice presidency of the company, but left in 1961 to become a Roman Catholic priest History from Wikipedia and OldCompany.com (old stock certificate research service).