Beautifully engraved specimen certificate from the Chart House Enterprises, Inc. This historic document was printed by the American Banknote Company and has an ornate border around it with a vignette of the company's logo and an underprint of a coastal marine navigation map of California. This item has the printed signatures of the Company's President.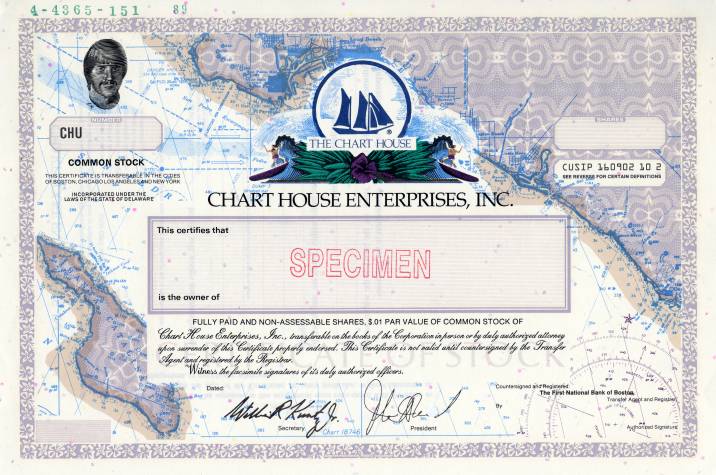 Certificate
Chart House Enterprises, Inc. History from the International Directory of Company Histories, Vol. 17. St. James Press, 1997 Address: 115 South Acacia Avenue Solana Beach, California 92075-1803 U.S.A. Telephone: (619) 755-8281 Fax: (619) 481-0693 Public Company Incorporated: 1985 Employees: 7,400 Sales: $179.2 million (1995) Stock Exchanges: NASDAQ SICs: 5812 Eating Places; 5461 Retail Bakeries; 6794 Patent Owners & Lessors Company Perspectives: Chart House Enterprises, Inc. operates 63 Chart House Restaurants. Chart House restaurants are full-service, casual dinner houses with menus featuring fresh fish, steaks, prime rib, seafood, pasta dishes and chicken, and as much salad and bread as the customer desires. The menu is offered in architecturally or historically unique buildings located in a variety of settings, including lake shores, mountains, and seacoasts. Company History: Chart House Enterprises, Inc. is a parent company with one primary operating division: Chart House, Inc. In the mid-1990s, the Chart House division, which represented 85 percent of company revenues, consisted of 63 restaurants in 21 states, Puerto Rico and the U.S. Virgin Islands. The majority of Chart House Enterprises' other holdings were sold in 1995. In 1996, Chart House Enterprises, Inc. operated Chart House restaurants and the Solana Beach Baking Company, and held a 25 percent interest in Islands Restaurants. Origins in the 1960s The first Chart House restaurant opened as a steak house in Aspen, Colorado, on the Fourth of July, 1961. The upscale chain's rather humble beginning consisted of 14 tables and four bar stools in a converted diner, with charts on the tables, photographs on the walls, and an emphasis on quality dining. Behind the restaurant were the ideas of its two founders--Hawaiian surf legend Joey Cabell and former U.S. Navy frogman Buzzy Bent--and their $5,000 investment. By the first winter, the Chart House was a trendy and crowded dining spot, with nightly customers enjoying teriyaki steaks and artichokes. By 1963, Cabell and Bent opened a second restaurant on Pacific Coast Highway in Newport Beach, California. Additional coastal locations were opened two years later, on Shelter Island in San Diego, and in nearby Coronado. The Chart House opening in Coronado was a milestone in the restaurant's history. The opening involved reconstruction of the landmark Coronado Boat House, originally constructed in 1887 as a prototype for the renowned Hotel del Coronado. Until Chart House opted for the neglected site, the building seemed destined to slide into the Glorietta Bay. Chart House impressed the community and local historians by restoring the Victorian construction, which opened for patrons on November 17, 1968. Since that time, Chart House has continued to seek unusual or meaningful sites for its new restaurants, usually in the mountains or near the water. In this early period, Joey Cabell opened his own Chart House in the islands and then backed out of the business to resume his professional surfing career. Replacing Cabell as Buzzy Bent's partner was Ron Smith, an old diving friend. Smith led the restaurant business through a period of rapid growth and expansion. By 1974, when he followed Bent into retirement, Smith had established Chart House restaurants throughout Southern California, the East Coast, and Hawaii, as a chain known for high quality food, special locations, and good service. Smith selected his own successor, CEO John Creed. Growth in the 1970s and 1980s In the mid-1970s, John Creed led Chart House through a period of growth and affluence. The company had plenty of cash and used it to expand and to acquire talented staff. The early 1980s were also successful for Chart House. In 1982, the restaurants earned $18.6 million, an increase over $8.7 million the previous year, with revenues increasing from $354.6 million to $382 million. In 1983, the Chart House division lured PepsiCo executive Donald Smith to join Chart House Inc. in Lafayette, Louisiana, as chief executive officer. Smith replaced William Hyde, Jr., who became vice-chairman. At this time, Chart House, Inc. operated more than 500 steak, hamburger, barbecue and Mexican restaurants in 32 states, Puerto Rico and the Virgin Islands, and was the largest single franchisee of Pillsbury Co.'s Burger King restaurants, and a franchiser of Luther's Bar-B-Que, a successful "concept" restaurant. With a reputation for empire-building, Smith went to work right away, expanding the Chart House domain. That same year, Chart House, Inc. acquired a 40 percent stake in Godfather's (valued at over $300 million), a national chain of about 800 pizza restaurants. Almost a decade later, the company continued expanding. Chart House Enterprises obtained the rights to develop and operate Islands restaurants--a 20-unit Southern California gourmet burger chain with a tropical theme. In a forty-year licensing agreement, Chart House promised to develop a minimum of 50 Islands restaurants during the first 12 years, in San Diego, Phoenix, Tucson, Florida, and Hawaii. Chart House paid no upfront fee to Islands but agreed to pay two percent royalties based on restaurant sales. Two new low- and medium-priced restaurants, Mango's and Beaches, were opened experimentally under the licensing agreement. However, the late 1980s and early 1990s held difficult surprises for Chart House. Difficulties in the Late 1980s and Early 1990s The national economic recession and the reduction of tourism during the Persian Gulf war brought reduced earnings for Chart House. Between 1987 and 1988, earnings per share had leapt from 44 cents to $1.08, but the next year earnings dropped to 76 cents. In 1991, shares came in at 55 cents, as compared to 80 cents a share the previous year. Revenues, however, continued to grow, creeping up from $133 to $154 million between 1987 and 1990, with an increase in net income from $2.2 million to $6.5 million between those years. To attend to stock price concerns, a five-year growth plan was stalled, with restaurant openings cut back from a planned seven to an actual two in 1990. Further, through the Islands agreement and lowered prices, Chart House sought to broaden appeal and recoup earnings. By 1994, stock prices had risen. In 1995, no new Chart House restaurants were opened, and three were closed--Idyllwild, California; St. Croix, U.S. Virgin Islands; and Warwick, Rhode Island. However, seven new Islands restaurants were opened in 1995. Revenues increased from $175 million in 1994 to $180 million in 1995, with newly opened Islands restaurants representing a $9 million increase in revenue, offset by decreased customers at Chart House restaurants. Further change visible in Chart House restaurants in the 1990s was reflected in menu offerings. Since its opening as a steak house in 1961, the restaurant had retained an emphasis on red meat, with seafood providing variety. In 1994, prime rib was the best single-item seller, but swordfish was quite popular, as the best-selling seafood item, and a new aioli seafood sauce with pineapple-cucumber salsa was frequently requested. Changes were made to the menu in that year, through experiments with several non-seafood items: chicken Marsala, centercut pork chop, baby back ribs, and tomato and basil pasta. Chart House used its Coronado location, an upscale seafood restaurant named Peohe's, for menu tests. By 1995, the typical Chart House restaurant was a full-service, casual dinner house with a menu featuring fresh fish, steaks, prime rib, seafood, pasta and chicken, with bottomless salad and bread bowls. In addition, several Chart Houses featured extensive salad bars with appetizer selections. 1995: A Turning Point In 1995, Chart House was in trouble. The fiscal year ended with profits down 38 percent to only $2.66 million from $24.29 million the previous year. Sales, however, rose 2.4 percent, to $179.16 million. Management was determined to reorganize company resources, and an executive decision was made to reemphasize Chart House's central division. Through diversification, the company had lost focus, and many premier locations had deteriorated through time and hard use. Chart House initiated sales of all but its flagship division, in order to fully concentrate on restoring its quality and profitability. Paradise Bakery was sold in 1995, and an agreement was made to sell a 75 percent interest in Islands restaurants. To further enhance the new direction and initiate a significant change in leadership, Chart House's CEO John Creed brought in Harry Roberts, a former Starbucks Coffee Company executive and proven marketer, as president and chief operating officer. A five-part strategic plan was employed, consisting of the following components: 1) a four-year revitalization program, allocating substantial cash resources (approximately $700,000 each) to rejuvenation of all 63 Chart House restaurants, including quality controls and menu expansion; 2) a new menu, which debuted in Cincinnati in April 1996; 3) for the first time, a real marketing effort, comprising two percent of annual sales, including the Aloha Club (a frequent diner program which was launched in 1993), in-unit promotions, and local/regional advertising campaigns; 4) a campaign to reduce overhead below eight percent of revenues by the end of 1997; and 5) the strengthening of management, as exemplified by the hiring of Harry Roberts and the promotion of Bill Kuntz to executive vice-president. Restructuring cost the company $4.85 million in fiscal 1995, incurring a $1.51 million loss in the 1995 fourth quarter. The total reimaging campaign required an investment of $44 million. A goal of the multi-tiered revitalization project was to ensure that Chart House restaurants maintained a high-level profile as classy dining establishments. Harry Roberts told Nation's Restaurant News that Chart House viewed its desired competitors as Ruth's Chris, Morton's, and independent steak houses--not the Outbacks of the world. To ensure a sophisticated image, Roberts began to look at replacement of Hawaiian themes and salad bars, preferring a "yacht club" look: wood-fired ovens in the bars and new menu items including tiger shrimp beignets, lobster cakes, grilled artichokes and designer pizzas. Perhaps the most controversial upgrade was the phasing out of Chart House's signature salad bars, a favorite of some longtime patrons. To please these customers, Chart House decided to offer unlimited "just ask" refills on a la carte salads. As part of the revitalization, Joseph Mayhew, Jr. was named director of food service, overseeing new menu item development and service. Mayhew is a graduate of the Culinary Institute of America in Hyde Park, New York. In addition to food overhauls, alcoholic beverage service became a concern of Chart House in 1995. To attract larger bar checks, the restaurant began to offer premium and super-premium scotches and bourbons and special-label wines. Further, the restaurants updated their specialty drinks, redecorated their bars with new glassware, eye-level beverage displays, and television monitors showing sports and travel videos. To ensure the safety of patrons, Chart House accompanied these alcohol promotions with a message on its menu reminding patrons to appoint a designated driver. The changes in the restaurant's alcohol service were successful in generating a 16 percent increase in alcohol sales (the equivalent of $700,000 in one year). 1996 and Beyond Such traditional Chart House menu items as steak, prime rib, and fish (all priced over $20), appealed to a customer base that was aging and diminishing rapidly. To market the restaurant to new, younger customers, in 1996, several price-friendly items (under $20) were added to the menus. New items geared to changing palates included such pasta-based selections as prawns and garlic steak on linguine, lobster and monkfish on spinach fettuccine, and a grilled portobello mushroom on fettuccine. The menu expansion was undertaken with the advice of Matteson & Co., a Foster City, California, consulting firm. In early 1996, Chart House struck a deal to sell its Paradise Bakery division for about $7 million in stock and notes. In April of that year, Chart House sold a 75 percent stake in its ownership of Islands to two affiliated companies formed by Islands Restaurants L.P. These sales were part of the strategy to concentrate on Chart House's main division--Islands units accrued unit volumes of about $1.8 million with average checks of $7 per person, while the typical Chart House customer spent closer to $30 to bring unit volumes to $2.3 million. Several underperforming Chart House locations were shuttered, and a member of the corporate staff was furloughed. In all, these actions comprised an effort to shave $3 million off general and administrative expenses. Meanwhile, unit renovation was a costly enterprise. The prototype remodeling venture was the Chart House's Malibu location, completed in 1996 at a cost of $1.2 million. The restaurant's former tropical theme was replaced with nautical decor, including raised booths with ocean views, custom hand-blown glass light fixtures, a wood-fired oven, and a new cook line and products. An additional--and somewhat ironic&mdashŒoblem in 1996 was the unexpected success of the Aloha Club frequent diner program. The program offered a free trip for two around the world to anyone who ate their way through every Chart House restaurant. By 1996, a surprising 50 customers complied, and Chart House's travel department was swamped with planning activities from snorkeling in Australia to sightseeing in New Zealand. Because of such expense and time for logistical planning, Chart House began rethinking the Aloha Club program. Having strengthened its basic Chart House division, the company sought to expand once again, opening its first Midwestern Chart House in Cincinnati in April 1996. By May, the Cincinnati location had generated sales 40 percent higher than the chain's average ($2.5 million per location). In 1996, after more than 20 years in office, John Creed resigned as chief executive officer to pursue personal interests, and Harry Roberts became CEO. Roberts continued the move toward reimaging Chart House, hiring Douglas Zeif--former number two executive of the Cheesecake Factory&mdash senior vice-president of concept development. Zeif had successfully opened more than 60 restaurants in his career. A new logo and brand identity were designed, symbolizing the break with the past and the new emphasis on revitalization. The new logo, graphically stronger than the old one, displayed a burgee, or swallow-tailed flag used by ships or nautical organizations for signals or identification. Individual burgee flags were developed for each restaurant, with unique symbols for each location borne on menus, clothing, stationery and even china. The mid- to late-1990s, then, signify a turning point for Chart House. Having built a successful restaurant empire that peaked and then crashed in the late 1980s and early 1990s, the refocusing of the company's resources on its central division offers a strategy for survival. With the new corporate leadership and a different economy, it remains to be seen whether the Chart House of the 1990s will resume its former popularity. For its part, Chart House Enterprises is plunging forward with a strengthened corporate identity, diversified menu, more sophisticated marketing campaign, and newly refurbished restaurants. Principal Subsidiaries: Chart House, Inc.; Solano Beach Baking Company History from OldCompany.com and
SavingsBonds.pro
(collectible Savings Bonds website)
About Specimen Certificates
Specimen Certificates are actual certificates that have never been issued. They were usually kept by the printers in their permanent archives as their only example of a particular certificate. Sometimes you will see a hand stamp on the certificate that says "Do not remove from file". Specimens were also used to show prospective clients different types of certificate designs that were available. Specimen certificates are usually much scarcer than issued certificates. In fact, many times they are the only way to get a certificate for a particular company because the issued certificates were redeemed and destroyed. In a few instances, Specimen certificates were made for a company but were never used because a different design was chosen by the company. These certificates are normally stamped "Specimen" or they have small holes spelling the word specimen. Most of the time they don't have a serial number, or they have a serial number of 00000.