Beautifully engraved specimen certificate from the Chesapeake Bay Bridge and Tunnel District printed in 1960. This historic document was printed by Security-Columbian Bank Note Company and has an ornate border around it with a vignette of an eagle standing on a rock. This item has a printed signature by the Chairman of the Chesapeake Bay Bridge and Tunnel District (Lucius J. Kellam) and is over 46 years old.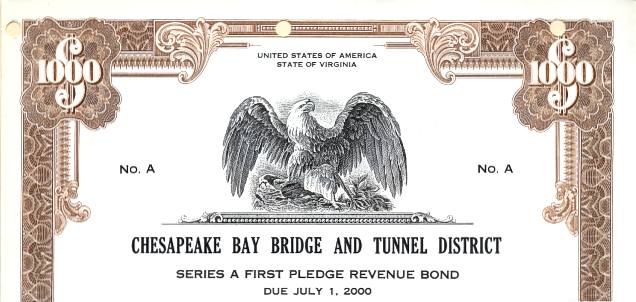 Certificate Vignette
For over 40 years, the Chesapeake Bay Bridge-Tunnel has captured worldwide attention as a modern engineering wonder and an important East Coast travel convenience. Crossing over and under open waters where the Chesapeake Bay meets the Atlantic Ocean, the Bridge-Tunnel provides a direct link between Southeastern Virginia and the Delmarva Peninsula (Delaware plus the Eastern Shore counties in Maryland and Virginia), and cuts 95 miles from the journey between Virginia Beach and points north of Wilmington, Delaware. Following its opening on April 15, 1964, the Bridge-Tunnel was selected "One of the Seven Engineering Wonders of the Modern World" in a worldwide competition that included more than one hundred major projects. In addition, in 1965, it was distinguished as "The Outstanding Civil Engineering Achievement" by the American Society of Civil Engineers. To date, over 80 million commercial and passenger vehicles have crossed the Bridge-Tunnel. In order to meet future traffic demands and provide for a safer crossing, construction of a parallel crossing project began in summer 1995, and opened to four-lane traffic on April 19, 1999. No less challenging than construction of the original span, this project once again drew focus to a remarkable achievement in engineering and construction. FROM FERRIES TO FIXED CROSSING From the early 1930's to 1954, a private corporation managed scheduled ferry service between Virginia's Eastern Shore and the Norfolk/Virginia Beach area. With the number of ships (including the number of passengers and vehicles they transported) increasing steadily, the Virginia General Assembly stepped in to create the Chesapeake Bay Ferry District and the Chesapeake Bay Ferry Commission as the governing body of the District; subsequently the Chesapeake Bay Bridge and Tunnel District and Commission. The Commission was authorized to acquire the private ferry corporation through bond financing, improve existing ferry service and implement a new service between Virginia's Eastern Shore and the Hampton/Newport News area. In 1956, the General Assembly authorized the Ferry Commission to explore the construction of a fixed crossing. Results of the study indicated a crossing was feasible and recommended a series of bridges and tunnels. In the summer of 1960, the Chesapeake Bay Ferry Commission sold $200 million in revenue bonds to private investors. Monies collected by future tolls were pledged to pay the principal and interest on these bonds. Construction contracts were awarded to Tidewater Construction Corporation; Merritt Chapman, Scott; Raymond International; Peter Kiewitt & Sons, Inc. and American Bridge Co. No local, state or federal tax money was used in the construction of the project. In April 1964 - just 42 months after construction began - the Bridge-Tunnel opened to traffic and ferry service was discontinued. From shore to shore, the Bridge-Tunnel measures 17.6 miles (28.4 km) and is considered the world's largest bridge-tunnel complex. Construction of the span required undertaking a project of more than 12 miles of low-level trestle, two 1-mile tunnels, two bridges, almost 2 miles of causeway, four manmade islands and 5-1/2 miles of approach roads, totaling 23 miles. Although individual components are not the longest or largest ever built, the Bridge-Tunnel is unique in the number of different types of structures it includes. In addition, construction was accomplished under the severe conditions imposed by hurricanes, northeasters, and the unpredictable Atlantic Ocean. The Bridge-Tunnel was officially named the Lucius J. Kellam. Bridge-Tunnel in August 1987, in honor of the man who spearheaded the project as it moved from a vision to a reality. Kellam served as a member of the Commission from 1954 until his death in 1995. In order to preserve the structure's identity and name recognition, however, it continues to be known as the Chesapeake Bay Bridge-Tunnel.
---
About Specimens
Specimen Certificates are actual certificates that have never been issued. They were usually kept by the printers in their permanent archives as their only example of a particular certificate. Sometimes you will see a hand stamp on the certificate that says "Do not remove from file". Specimens were also used to show prospective clients different types of certificate designs that were available. Specimen certificates are usually much scarcer than issued certificates. In fact, many times they are the only way to get a certificate for a particular company because the issued certificates were redeemed and destroyed. In a few instances, Specimen certificates we made for a company but were never used because a different design was chosen by the company. These certificates are normally stamped "Specimen" or they have small holes spelling the word specimen. Most of the time they don't have a serial number, or they have a serial number of 00000. This is an exciting sector of the hobby that grown in popularity and realized nice appreciation in value over the past several years.