Beautiful uncancelled scarce certificate from Warner Communications Inc issued in 1979. This historic document was printed by United States Banknote Company and has an ornate border around it with a vignette of an allegorical with a city skyline in the background. This item has the printed signatures of the Company's Chairman, Steven J. Ross and Secretary and is over 35 years old. Number hand written on top and fold from original mailing.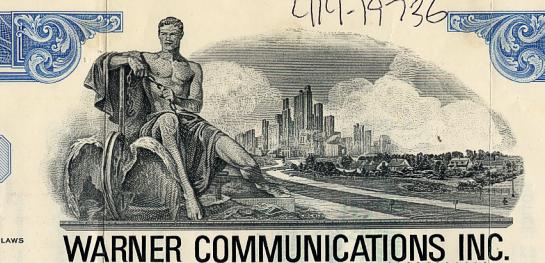 Certificate Vignette
Steve Ross (September 17, 1927 - December 20, 1992) was responsible for the 1990 merger of Warner Communications and Time Inc. into the world's largest media and entertainment conglomerate, Time Warner. The family name was changed by Ross's father in 1932. Ross was born Steven Jay Rechnitz in Brooklyn, New York to Jewish immigrant parents. Ross enlisted in the U.S. Navy in June 1945 and was discharged in 1946. Ross later claimed that he suffered a hearing loss due to his combat service but he never served in combat and spent only seven days at sea, mostly taking the USS Hopping to Florida for decommissioning. Ross followed his World War II-era naval service with studies at Paul Smith's College (located in Paul Smiths, New York). Kinney Parking Company was originally a funeral home company which had expanded with the acquisition of New York parking lots, office cleaning firms and construction companies. Joining Kinney when he married the owner's daughter, Carol Rosenthal (in 1954), Ross succeeded in expanding his father-in-law's funeral company. In 1958, he began arranging an alliance between the Manhattan-based funeral business and New Jersey's Kinney System. The companies merged in 1962. After Kinney National Service moved from downtown Newark to 10 Rockefeller Plaza in November, 1962, Ross became the company president. Ross was the co-CEO of Kinney National Company from 1969 to 1972. He became the sole CEO, president and chairman of Warner Communications in 1972. In 1982, Ross was accused by federal prosecutor Nathaniel H. Akerman of having Warner assistant treasurer Solomon Weiss, who had followed Ross from Kinney, act as the "banker or overseer of a secret cash fund" of $170,000 in bribes. The accusation came at Weiss' trial for mail fraud, racketeering, perjury and tax violations stemming from Warner Communications investments in the Westchester Premier Theater, a joint venture of the Colombo, Gambino, and Genovese crime syndicates. Weiss, and two other Warner executives--Jay Emmett and Leonard Horwitz--were all convicted of crimes related to the affair. Although Emmett implicated Ross, he was never indicted and the federal investigation of him was closed in 1985 due to "insufficient evidence" to obtain a conviction. In the fall off 1982 Ross ordered Ray Kassar, president of the Atari videogame company which was then owned by Warner Communications, to produce an E.T. the Extra-Terrestrial videogame for their 2600 game platform as a product tie-in with Warner's hit film of the same name by Christmas - giving them less than 6 weeks to produce and market the game from start to finish. The videogame is still widely regarded as one of the worst video games ever made, and 5 million unsold cartridges were eventually buried in a landfill and covered with cement. The loss cost Atari $536 million and is widely credited with causing a massive slump in the videogame industry known as the "Crash of 83" North American video game crash of 1983. The merger of Time Inc. and Warner Communications, Inc., which began in 1989, was finalized on January 10, 1990. In 1990, Ross took home a record $78.2 million in total pay. When Ross died from prostate cancer at the age of 65 in the last weeks of 1992, Gerald Levin stepped in January 21, 1993, as Time Warner's sole CEO. His second wife was the socialite and urban planner Amanda Burden. Director Steven Spielberg gave actor Liam Neeson (who, at 6'4", was the same height as Ross) tapes of Steve Ross to use as research for his role as Oskar Schindler in the film Schindler's List
---
1923 Time, a weekly magazine is founded by Henry Luce and Briton Hadden with $86,375 borrowed from friends and Yale classmates. First issue of Time, with fewer than 20,000 subscribers; magazine loses $39,454 in 1923. 1924 Time turns a profit. 1930 Fortune, a monthly magazine, is published. 1936 Life, a weekly photojournal is published with circulation of more than 500,000 in less than four weeks. Company diversifies into radio, newsreels,book publishing, oil, and forest products. 1960 90 percent of company's revenues come from magazines. 1964 Time Inc. trades from over-the counter to the NYSE 1967 Time revenues reach $600 million. 1969 Time's bottom line takes a beating as television becomes a major threat. 1972 Life ceases publication; Money is launched. HBO, a new form of pay TV, where viewers pay a monthly fee rather than per-view, debuts. Its first Vice President of Programming is Gerald Levin. 1974 People magazine is launched. 1975 Gerald Levin, now President and Chairman and CEO of HBO persuades Time Inc. to buy $7.5 million of satellite time to distribute HBO programming, making it available nationwide by April. HBO is owner of 52 cable systems around the country. By end of year, HBO had 287,000 customers but decifit continues until 1977. 1980 Profits from Time's video divisions exceed those from magazines for the first time. One of 10 television households receives HBO. Bob Kerstein leaves Warner Bros to join Falcon Cable TV as CFO. Time begins to be seen as a cable company. 1985 Levin initiates program suggesting merging with newspapers, broadcasting stations, and network. AOL is incorporated under original founding name, Quantum Computer Services, registered in Delaware 1986 Warner buys out American Express share of Warner-AMEX Cable for $400 million. 1987 Time joined with TCI, the country's largest multi-system cable operator and other cable companies to bail out overextended Turner Broadcasting System, Cable News Network (CNN). 1988 Warner acquires Lorimar Telepictures. 1989 Time merges with Warner Communications, setting the stage for a string of media consolidations. America Online service is launched for Macintosh and Apple II 1992 Steve Ross, the architect of the Time Warner deal and a terrific leader, dies in December. Levin is named chairman and chief executive officer. America Online goes public on the NASDAQ market at original price of $11.50 under symbol AMER 1993 Windows version of America Online launched. 1994 AOL reaches 1 million members. 1996 Time Warner acquires Turner Broadcasting System. Time Warner regroups its operations into Filmed Entertainment, Cable Networks, Publishing & Cable Systems divisions. AOL tops 5 million members. 1997 AOL tops 10 million members. 1998 AOL completes acquisition of CompuServe. Standard & Poor announces that America Online will be added to the S&P 500 Index. 1999 Time Warner announces joint venture with ATT to offer local telephone service in 33 states over Time Warner's infrastructure. AOL completes its acquisition of Netscape Communication Corporation. AOL tops 20 Million Subscribers 2000 Time Warner and America Online announce a $181 billion merger. 2001 global AOL subscribers surpass 30 million 2001 Asiaweek, Family Life and On closed 2001 AOLTW announces plan to spend US$6.75bn buying Bertelsmann's 49.5% stake in AOL Europe 2001 buys IPC Magazines from Cinven for £1.15bn 2002 AT&T sells stake in Time Warner Cable 2002 AOLTW buys 15.3% of VIVA Media from EMI 2002 buys Warren Miller Films 2002 buys 50% of music publisher Deston Songs from edel music AG 2003 Warner Bros sells stake in Australian cinema joint venture (319 screens in 29 multiplexes) to AHL's Greater Union and Village Roadshow 2003 AOL is dropped from the Time Warner company name History from Wikipedia and OldCompany.com (old stock certificate research service).