Beautiful certificate from the Chicago Terminal Transfer Railroad Company issued 1901. This historic document was printed by the American Bank Note Company and has an ornate border around it with a vignette of an allegorical woman. This item has the original signatures of the Company's President, and Secretary, and is over 111 years old. The certificate was issued to and signed on the back by E. H. Harriman. Ink mark in upper left corner.

Certificate Vignette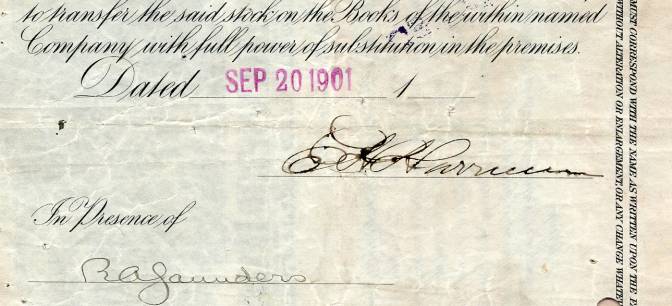 E. H. Harriman's Signature on Back
Edward Henry Harriman (February 20, 1848 September 9, 1909), better known as E. H. Harriman, was a wealthy railroad executive. He was born on Long Island in New York. The son of Orlando Harriman, an Episcopal clergyman, and Cornelia (Neilson) Harriman. His great-grandfather, William Harriman, emigrated from England in 1795 and engaged successfully in trading and commercial pursuits. As a young boy, Harriman spent a summer working at the Greenwood Iron Furnace in the area owned by the Parrott family that would become Harriman State Park. Due to tight family finances, he had to quit school at age 14 to take a job as an errand boy on Wall Street in New York City. His rise from that humble station was meteoric. By age 22, he was a member of the New York Stock Exchange. And, by age 33, he focused his energies on acquiring rail lines. In 1879 he married Mary Williamson Averell, the daughter of William J. Averell, a banker of Ogdensburg, New York, who was president of the Ogdensburg & Lake Champlain Railroad Company. This relationship aroused his interest in up-state transportation and two years later his career as a rebuilder of bankrupt railroads began with a small broken-down railroad called the Lake Ontario Southern which he renamed the Sodus Bay & Southern, reorganized, and sold with considerable profit to the Pennsylvania. In 1885 Harriman learned that the 7863-acre Parrott family estate was for sale. He bought it for $52,500 and named it Arden (now a hamlet in Tuxedo, New York). Over the next several years he purchased an additional twenty thousand acres, almost forty different parcels of land, and built forty miles of bridle paths to connect them all. It was from this estate that his widow would donate ten thousand acres to New York state to start Harriman State Park in 1910. Harriman was nearly fifty years old when in 1897 he became a director of the Union Pacific Railroad. By May 1898 he was chairman of the executive committee, and from that time until his death his word was law on the Union Pacific system. In 1903 he assumed the office of president of the company. From 1901 to 1909, Harriman was also the President of the Southern Pacific railroad. The vision of a unified UP/SP railroad was planted with Harriman. At the time of his death Harriman controlled the Union Pacific, the Southern Pacific, the Saint Joseph and Grand Island, the Illinois Central, the Central of Georgia, the Pacific Mail Steamship Company, and the Wells Fargo Express Company. Estimates of his estate ranged from $200 million to $600 million. It was left entirely to his wife. History from Wikipedia and Bob.com.