Beautifully engraved certificate from the Oregon and Transcontinental Company issued prior to 1885. This historic document was printed by the American Banknote Company and has an ornate border around it with a vignette of indians overlooking the country, oceans, rivers, mountains, farms, towns, miners and trains. This item is handsigned by the company's officers and is over 127 years old. Overall fine condition with some wear on borders. The certificate was issued to E. H. Harriman and Company and signed E. H. Harriman by the company on the verso. Punched cancelled.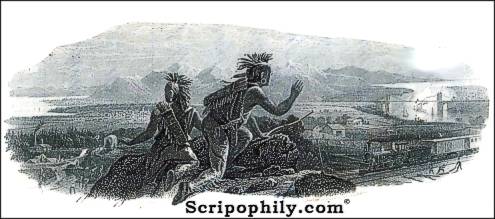 Endorsement on Verso
The Oregon and Transcontinential Company was a holding company organized by Henry Villard. They controllled the Northern Pacific and Oregon Railway and Navigation Company which was a dominant force among railroads in the Northwest. E. H. Harriman 1848-1909, American railroad executive, b. Hempstead, N.Y.; father of William Averell Harriman. He became a stockbroker in New York City and soon entered the railroad field, where he attracted attention by able management of the Illinois Central RR, of which he became a director (1883) and vice president (1887). He became executive committee chairman of the Union Pacific in 1898 and repossessed for it the Oregon Short Line. By purchase of the holdings of Collis P. Huntington, he secured control not only of the Southern Pacific RR but also of the Central Pacific RR. His attempt to secure an entrance into Chicago by gaining control of the Burlington & Quincy RR was blocked by James J. Hill in a struggle famous in American financial history. In a later compromise, he joined with Hill and J. P. Morgan in organizing the Northern Securities Company, a holding company formed to prevent railroad competition. But in 1904 the trust was ordered dissolved by the U.S. Supreme Court. Harriman used the financial strength of his roads to buy widely and speculatively in railroad stocks elsewhere. He conducted the Harriman Alaskan expedition of 1899, a scientific undertaking; sponsored boys' clubs; and pledged $1 million and 10,000 acres (4,047 hectares) of forest land to New York state for park purposes. The reservation, now the 42,500-acre (17,200-hectare) Harriman State Park, is part of the Palisades Interstate Park.