Beautiful low serial number certificate from the CIT Group Inc. This historic document was printed by the Banknote Corporation of America and has an ornate border around it with a vignette of an alegorical woman looking at a globe. This item has the printed signatures of the Company's Chairman, President and Chief Executive Officer, and Secretary.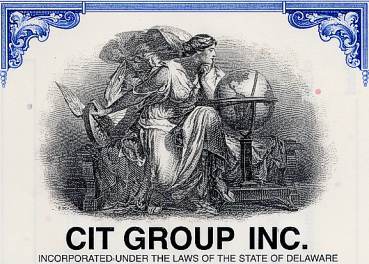 Certificate Vignette
CIT Group Inc. is a financial holding company founded in 1908 headquartered in New York City. The company's name is an abbreviation of an early corporate name, Commercial Investment Trust. It provides financing and leasing capital to customers in over 30 industries. CIT also operates CIT Bank, an FDIC insured bank, its primary bank subsidiary. The company is ranked #603 on the Fortune 1000 list of the largest American companies and is on the list of largest banks in the United States. CIT filed for bankruptcy protection on November 1, 2009, and with the consent of its bondholders, emerged from bankruptcy 38 days later, on December 10, 2009.
---
On Sunday November 1, 2009 CIT filed for Chapter 11 bankruptcy protection CIT Group has filed for Chapter 11 bankruptcy protection, in an effort to restructure its debt while trying to keep loans flowing to the thousands of mid-sized and small businesses. CIT made the filing in New York bankruptcy court Sunday, after a debt-exchange offer to bondholders failed. CIT said in a statement that its bondholders have overwhelmingly approved a prepackaged reorganization plan which will reduce total debt by $10 billion while allowing the company to continue to do business. The Chapter 11 filing is one of the biggest in U.S. corporate history. CIT's bankruptcy filing shows $71 billion in finance and leasing assets against total debt of $64.9 billion. Its collapse is the latest in a string of huge cases driven by the financial crisis over the past two years, as bailed out industry heavyweights like General Motors and Chrysler both entered bankruptcy court. It is unclear what the filing will mean for the nation's small businesses, many of which look to CIT for loans to cover expenses like buying materials at a time when other credit is hard to come by. Analysts have warned that already ailing sectors, like retailers, could be hit especially hard, since CIT serves as the short-term financier for about 2,000 vendors that supply merchandise to more than 300,000 stores.
---
CIT Group, Inc. (NYSE: CIT) is a large American commercial and consumer finance company, founded in 1908. The company was included in the Fortune 500 and was a leading participant in vendor financing, factoring, equipment and transportation financing, Small Business Administration loans, and asset-based lending. The company does business with more than 80% of the Fortune 1000, and lends to a million small and medium businesses. It was part of the S&P 500 Index, but was replaced by Red Hat after the close of trading on July 24, 2009. The company has its headquarters in New York City, and employs more than 7,300 people in locations throughout North America, Europe, Latin America, and Asia Pacific. The company's name is an abbreviation of an early corporate name, Commercial Investment Trust. In 2008, CIT Group became a bank holding company in order to receive $2.3 billion in Troubled Asset Relief Program (TARP) funds. On July 15, 2009, CIT announced that it believed it was unlikely that it would receive further funding from the federal government. CIT Group came very close to declaring Chapter 11 bankruptcy. It was rescued in a US$ 3bn deal late on Sunday 19 July, entering into an agreement with the bondholders group, which includes Pacific Investment Management Company (Pimco) and some other top CIT holderssigned.