Beautiful engraved bond Gold Bond Certificate from the
Cleveland, Cincinnati, Chicago and St Louis Railway Company
dated 1893. This stunning document has a brown ornate border around it with a touching vignette of two sisters aka "The Reaper Sisters" flanked by trains as the central vignette. This early railroad bond is over 121 years.
Certificate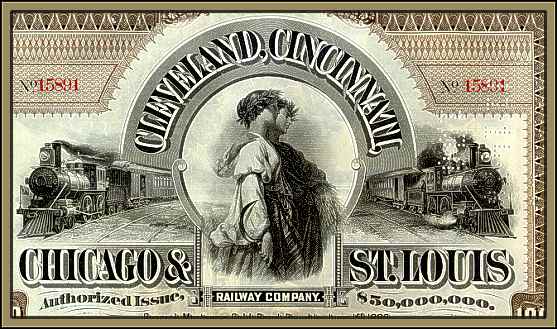 Certificate Vignette
Vignettes on verso
This company was organized by the consolidation, effective June 30, 1889, of the Cleveland Columbus Cincinnati and Indianapolis Railway Company, the Cincinnati Indianapolis St Louis and Chicago Railway Company, and the Indianapolis and St Louis Railway Company, articles of incorporation being recorded with the Secretary of the State of Indiana, June 8, 1889, and with the Secretary of the State of Ohio, June 27, 1889.