Beautiful certificate from the Clifton Manufacturing Company issued in 1903. This historic document was printed by the Walker, Evans & Cogswell Co. and has an ornate border around it with a vignette of the company's headquarters. This item has been hand signed by the Company's President, Albert H. Twichell and Treasurer, and is over 108 years old. Punched cancelled.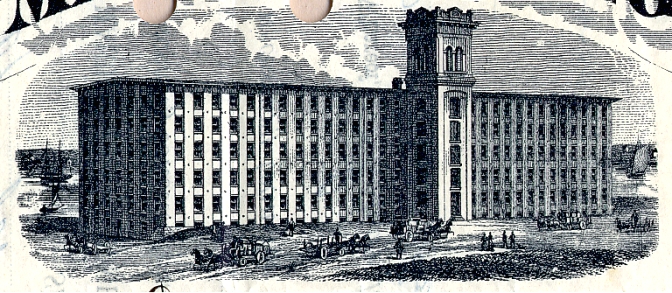 Certificate Vignette
Clifton Manufacturing Company was incorporated January 19, 1880 with a capital stock of $200,000 (1). Mills at this time were normally built along rivers where a change in slope gave opportunity to harness water power. With prior experience downstream on the Pacolet River, Edgar Converse, a native of Swanton, Vermont, organized cotton mill at Hurricane Shoals. The noted engineering firm of Lockwood Greene was selected to design the mill. Clifton Mill No. 1 (named or the cliffs overlooking the Pacolet), began manufacturing in 1881 with 7,000 spindles, 144 looms and 600 operatives, who lived in the nearby mill village. (2) The company prospered and authorized another mill in August 1887. The new mill, named Clifton No. 2 was located just downriver on Cannon's Shoals. Construction began in 1888 and began production in 1889 with 21,512 spindles, a three-fold increase over No. 1. Early products for these mills included sheeting, drills, and print cloth. In May 1895, management authorized a third mill to be located just north of mill No. 1. This mill, Clifton No. 3, would have 34,944 spindles and 1092 looms. Albert H. Twichell succeeded Edgar Converse as president of Clifton Manufacturing upon the death of Mr. Converse in May, 1899. Clifton No. 3 opened in 1900. Albert H. Twichell was elected President of the D. E. Converse Company, Inc. following the untimely death of his brother in-law, Dexter Converse. Albert, the son of Mr. Window and Anne Carroll Twichell, was born February 13, 1841 in New York Mills, N.Y. He came to Bivingsville in 1859 at the age of 18 following the invitation of Mr. Converse to work as a bookkeeper and clerk in the mill store which was under the control of John Bomar & Company. He continued in that position until August 1861 when he enlisted in the Thirteenth S.C. Regiment as a soldier in the Civil War. Shortly after the war, The John Bomar Co. having been dissolved and the D. E. Converse Company organized, the name of the village was changed from Bivingsville to Glendale, S. C. Postal records listed Albert Twichell as Postmaster of the newly opened Glendale Post Office in 1878. Having bought stock in the Company, Mr. Twichell became a partner in the firm and was named Secretary and Treasurer of the D. E. Converse Company. He served in that position until he was elected President of the Corporation in 1899, making him head of both Glendale Mills and Clifton Mfg. Co. The Corporation continued to grow under his leadership. Plant No 3 at Glendale was finished in 1902. Unfortunately the flood of 1903, doing extensive damage to all the mills, resulted in great loss for the Corporation and it's employees. Fortunately, Glendale did not suffer the loss that Clifton did. Their mills were devastated, homes were washed away and lives were lost. Reportedly, four to five hundred thousand dollars, perhaps much more, was reinvested in the Company and under the capable leadership of Mr. Twichell, all plants were rebuilt and expanded. Mr. Twichell married Miss. Mary Bomar of Charleston, S. C. in 1866. She was born January 27, 1842 and was the daughter of George W (May 8,1807-July16,1886) and Emily C. Bomar (Aug.16,1816-Oct.11,1896) Both parents are buried in the Twichell Square in Oakwood Cemetery in Spartanburg, S.C. Albert and Mary Twichell were the parents of two daughters; Nellie Converse Twichell, born July 31,1867. Nellie married David Meiver of N.Y. She died December 15, 1934 and is buried in the Twichell square in the Oakwood Cemetery. Emma was born August 8, 1871 and married Jefferson Choice Evins of Spartanburg. She died March 13, 1944 and was interred in the Evins Square at Oakwood Cemetery. Mrs. Mary Bomar Twichell died January 19, 1905 and is also interred in the Twichell Square in the Oakwood Cemetery along side of her husband. Copies of her obituary were not available. History from Glendale, South Carolina Home Page.