Beautifully engraved certificate from the Columbian Magazine Publishing Company issued in 1910. This historic document has an ornate border around it with a vignette of a woman wearing a helmet with a star on the front of it. This item is hand signed by the Company's President ( J. Brinton Haynes )and Treasurer and is over 94 years old.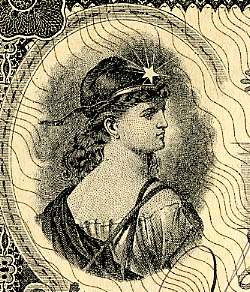 Certificate Vignette
The Columbian - Sterling Publishing Company was a result of the Western Magazine Publishing Company combing with the Columbian Magazine Publishing Company. The Columbian-Sterling Publishing Company ran the magazines of the Columbian, Hamptoms, Homes, Sterling, American Woman's Review and Orff's Farm Review.