Beautifully engraved specimen certificate from the Cook Coffee Company printed in the 1960's. This historic document was printed by the American Banknote Company and has an ornate border around it with a vignette of an allegorical woman. This item has the printed signatures of the Company's officers.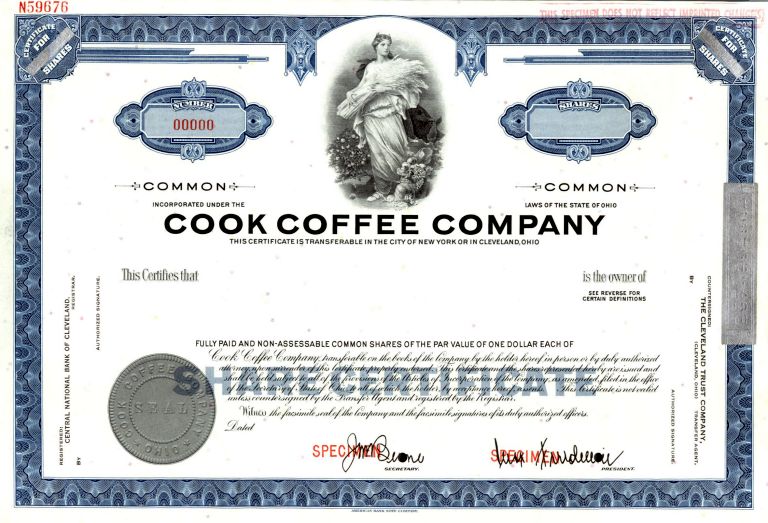 Certificate
Cook Coffee Company, was created in Ohio in 1925 and maintained its principal offices in Maple Heights, Ohio. The company changed its name to Cook United, Inc. in April 1969. Cook Coffee Company, was in the business of operating supermarkets and discount department stores located in various parts of the country, primarily in the Midwest. With the retail food and grocery business, the company also operated a bakery, a dairy, a snack foods plant, and an egg farm and processing plant. The company operated the specialty departments in order to maintain and control the quality of certain perishable goods. Discount drug stores and a wholesale hardware and sporting goods business were also parts of the company's business. The company's conventional, self-service supermarkets, located primarily in the Greater Cleveland area, operated under the name "Pick-N-Pay." The company offered Eagle Stamps in all of the greater Cleveland stores and was the only supermarket chain that distributed these stamps in the area. Eagle Stamps were redeemable for certain merchandise in May Company department stores in Cleveland. In 1972 Cook United sold 57 Pick-N-Pay supermarkets and related assets to Julie Kravitz Supermarkets, Inc., headed by Julie Kravitz, a retired supermarket executive. History from Wikipedia, Encyberpedia and
OldCompany.com
(old stock certificate research service)
About Specimen Certificates
Specimen Certificates are actual certificates that have never been issued. They were usually kept by the printers in their permanent archives as their only example of a particular certificate. Sometimes you will see a hand stamp on the certificate that says "Do not remove from file". Specimens were also used to show prospective clients different types of certificate designs that were available. Specimen certificates are usually much scarcer than issued certificates. In fact, many times they are the only way to get a certificate for a particular company because the issued certificates were redeemed and destroyed. In a few instances, Specimen certificates were made for a company but were never used because a different design was chosen by the company. These certificates are normally stamped "Specimen" or they have small holes spelling the word specimen. Most of the time they don't have a serial number, or they have a serial number of 00000.