Beautifully engraved specimen certificate from the Docent Incorporated printed in 2000. This historic document was printed by the Security-Columbian United States Banknote Company and has an ornate border around it with a vignette of the Company's logo. This item has the printed signatures of the Company's President and Chief Executive Officer, and Executive Vice President Secretary, and is over 16 years old.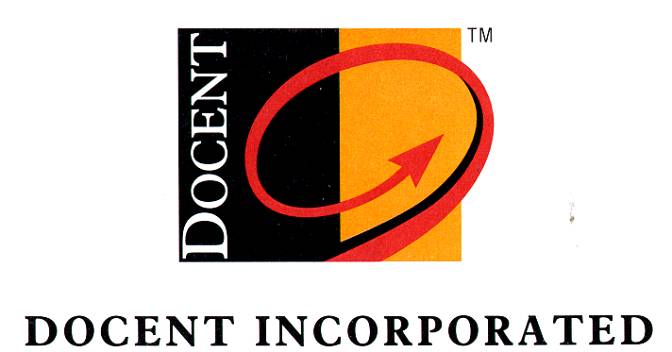 Certificate Vignette
Docent Inc. (Nasdaq:DCNT) is a leading provider of integrated software solutions proven to directly drive business performance through learning. Docent solutions for sales performance, product launch, channel effectiveness, customer education, compliance, ERP/CRM system implementations, and other business priorities are enabled by the industry's most comprehensive suite of business performance management applications, industry-specific content, and world-class services. Solutions are tailored to address the unique requirements of vertical markets, including government, life sciences, energy, high tech, telecommunications, financial services, retail and manufacturing. Docent outperforms the industry in customer satisfaction benchmarks, delivering compelling and measurable ROI to blue chip customers such as Cingular Wireless, Harley-Davidson, Wachovia Corporation, Lucent Technologies, Kelly Services, Eaton Corporation, D&B, Halliburton, Rockwell Collins, and Bechtel Group, Inc. Docent partners with the world's most prominent systems integrators and business process outsourcing providers, including Accenture, Exult, IBM Human Capital Solutions, Cap Gemini Ernst & Young and Deloitte Consulting. Docent is distinguished as a leader by Gartner in the 2003 e-Learning Suites and LMS Magic Quadrants, and by the META Group in the 2003 METAspectrum report on learning management system vendors. Docent is headquartered in Mountain View, California, with other offices throughout the United States, Europe and Asia-Pacific.
---
About Specimen Certificates
Specimen Certificates are actual certificates that have never been issued. They were usually kept by the printers in their permanent archives as their only example of a particular certificate. Sometimes you will see a hand stamp on the certificate that says "Do not remove from file". Specimens were also used to show prospective clients different types of certificate designs that were available. Specimen certificates are usually much scarcer than issued certificates. In fact, many times they are the only way to get a certificate for a particular company because the issued certificates were redeemed and destroyed. In a few instances, Specimen certificates were made for a company but were never used because a different design was chosen by the company. These certificates are normally stamped "Specimen" or they have small holes spelling the word specimen. Most of the time they don't have a serial number, or they have a serial number of 00000. This is an exciting sector of the hobby that has grown in popularity over the past several years.