Beautifully engraved specimen stock certificate from the Durant Motors, Incorporated printed prior to 1935. This historic document was printed by the American Banknote Company and has an ornate border around it with a vignette of an allegorical man and woman by the company logo. This item has the printed signatures of the Company's President and Secretary and is over 80 years old.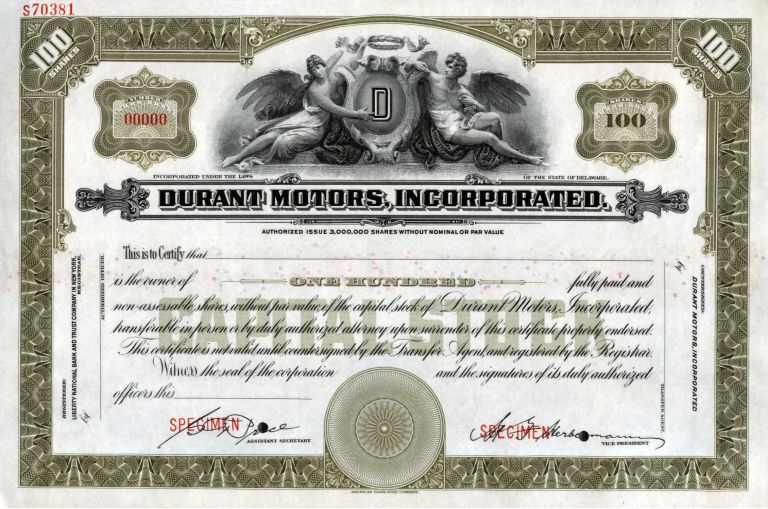 Certificate
Durant Motors attempted to be a full-line automobile producer of cars and fielded the Flint, Durant, and Star brands which were designed to meet Buick, Oldsmobile, Oakland, and Chevrolet price points. Billy Durant also acquired luxury-car maker Locomobile of Bridgeport, Connecticut, at its liquidation sale in 1922; in theory, Locomobile gave him a product that would compete against Rolls Royce and Pierce-Arrow. Durant Motors had a relationship with the Dort, Frontenac, and DeVaux automobile name badges. The Rugby line was the export name for Durant's Star Car line. However, from 1928 to 1931, Durant marketed trucks in the US and Canadian markets under the badge Rugby Trucks. The Princeton, a model aimed at the Packard and Cadillac price point, was planned but never realized; also planned was the Eagle car line, but it never made it off the drafting tables. Durant cofounded a truck-making subsidiary, Mason Truck, and also acquired numerous ancillary companies to support Durant Motors. In 1927, the Durant line was shut down to retool for a brand new modernised car for 1928, re-emerging in 1928 with Durant, Locomobile, and Rugby lines in place, and dropping the Mason Truck and Flint automobile lines and top-selling Star car in April 1928. In 1929, Locomobile went out of production. Initially, Durant Motors enjoyed success based upon Billy Durant's track record at General Motors, where he assembled independent makes Chevrolet, Oakland, Oldsmobile, Buick, and Cadillac. However, when sales failed to meet volumes sufficient to sustain Durant Motors holdings, the firm's financial footing began to slip. As a result, Durant Motors began losing market share and dealers. The final models, produced under the Durant brand, rolled off the US assembly line in Aug 1931 at Lansing, but continued in Canada into 1932 under Dominion Motors, which also built the Frontenac. History from Wikipedia, Encyberpedia and
OldCompany.com
(old stock certificate research service)
About Specimen Certificates
Specimen Certificates are actual certificates that have never been issued. They were usually kept by the printers in their permanent archives as their only example of a particular certificate. Sometimes you will see a hand stamp on the certificate that says "Do not remove from file". Specimens were also used to show prospective clients different types of certificate designs that were available. Specimen certificates are usually much scarcer than issued certificates. In fact, many times they are the only way to get a certificate for a particular company because the issued certificates were redeemed and destroyed. In a few instances, Specimen certificates were made for a company but were never used because a different design was chosen by the company. These certificates are normally stamped "Specimen" or they have small holes spelling the word specimen. Most of the time they don't have a serial number, or they have a serial number of 00000.