Beautiful engraved RARE specimen certificate from the Everett Land Company dated in 1893. This historic document was printed by Franklin Bank Note Company and has an ornate border around it with a vignette of an eagle. This item is over 115 years old. 40 coupons attached on right side, each with the printed signature of Gardner Colby, as Treasurer. Port Gardner was named after Gardner Colby.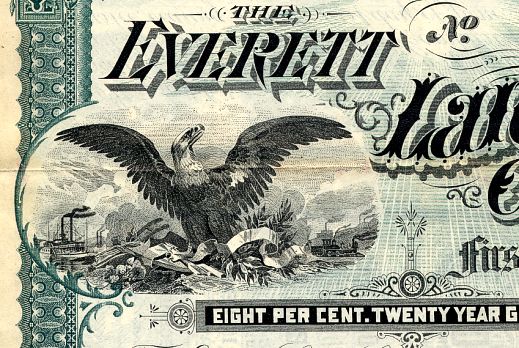 Certificate Vignette
In 1890, Henry Hewitt along with Charles L. Colby and Colgate Hoyt founded the Everett Land Company for the purpose of building the city of Everett, named after the son of Charles Colby, on some of the land surrendered by its original inhabitants under the 1855 Treaty of Point Elliott. Everett was officially incorporated on May 4, 1893, the year the Great Northern Railroad came to the town. Everett hoped that James J. Hill would make the town the terminus of his railroad. However Hill continued the railroad along the shore of Puget Sound to Seattle. Railroads and mines played a part in Everett's future. The mining community of Monte Cristo, depended on a railway for supplies. It was hoped that the railroad would cross the mountains and bring in traffic. For a while ore was smelted in Everett, then sawmilling and port activity commenced. A dozen steam riverboats were built in Everett for the Yukon gold rush. Everett was the place where several survivors of the Bellingham riots settled, until they were beaten and forcefully evicted by a mob on November 5, 1907. Everett also was the site of the Everett Massacre of 1916 which was an armed confrontation between a mob led by local Sheriff Donald McRae and IWW members. The IWW members were on the steamer Verona and sought to land, but Sheriff McRae denied them his permission. Shooting broke out and at least five IWW's were killed and two in the Sheriff's mob were killed, though they might have been accidentally shot by others in their allegedly drunken group. Everett streets are named after each of the three founders. Adjacent streets Colby Avenue and Hoyt Avenue run north and south and are intersected by Hewitt Avenue running east and west just south of the BNSF Railway tracks cutting across Everett. There are several other streets named for their associates such as Bond Street named for Judge Hiram Bond President of the Everett & Monte Cristo Railroad.
---
About Specimens
Specimen Certificates are actual certificates that have never been issued. They were usually kept by the printers in their permanent archives as their only example of a particular certificate. Sometimes you will see a hand stamp on the certificate that says "Do not remove from file". Specimens were also used to show prospective clients different types of certificate designs that were available. Specimen certificates are usually much scarcer than issued certificates. In fact, many times they are the only way to get a certificate for a particular company because the issued certificates were redeemed and destroyed. In a few instances, Specimen certificates we made for a company but were never used because a different design was chosen by the company. These certificates are normally stamped "Specimen" or they have small holes spelling the word specimen. Most of the time they don't have a serial number, or they have a serial number of 00000. This is an exciting sector of the hobby that grown in popularity over the past several years.