Beautiful certificate from the Fawcett Ventilated Fireproof Building Co. Limited issued in 1896. This historic document was printed by the Burk & McFetridge Co. Lith. and has an ornate border around it with a vignette of men working on a building foundation. This item has been hand signed by the Company's Chairman, and Treasurer, and is over 115 years old.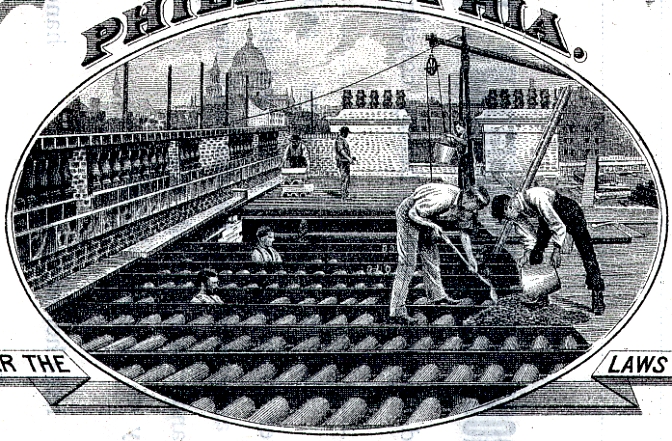 Certificate Vignette
According to an advertisement in 1896: The Fawcett Ventilated Fireproof Building Co., Ltd. The only system that provides an absolutely scientific safeguard against fire. We also furnish Terra Cotta Partitions, Roof Blocks, Furring, Girder and Pipe Covering. Contracts taken for the complete fireproof ing of buildings under our system, and for furnishing the steel work if desired. Estimates and full information will cheerfully be furnished upon application. Adopted by Architects and Engineers on Account of 1. Fireproof Quality. 4. Strength. 2. Sanitary Value. 3. Lightness. 4. Strength 5. Ease and Quickness of Construction.