Beautiful certificate from the Goldfield Reliance Mining Company issued in 1905. This historic document has an ornate border around it with a vignette of an men working hard down in a mine. This item has been hand signed by the Company's President, C. M. Sumner and Assistant Secretary, and is over 106 years old.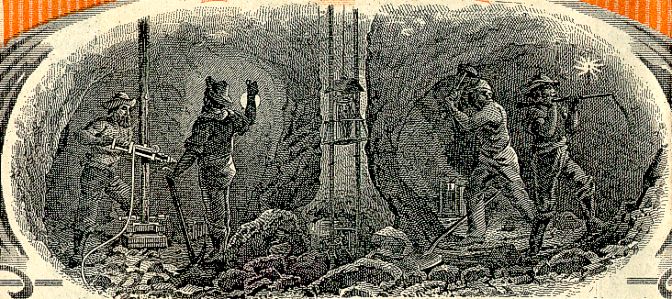 Certificate Vignette
GOLDFIELD RELIANCE MINING COMPANY. Located in Goldfield District, Nevada. Six unpatented claims. Gold. Incorporated under laws of Wyoming; capitalized at $1,500,000--1,500,000 shares, par $1. Non-assessable. 500,000 shares in treasury. Not much work done. Officers: C. M. Sumner, President and Treasurer; G. H. McAuliffe, Vice-President; J. A. Ingram, Secretary, and W. A. Deianey, Treasurer. Main office, Kittridge Bldg., Denver, Colorado. History from
StockResearch.pro
(Professional Old Stock Certificate Research Service).