Beautiful certificate from the Goldfield Treasure Mining Company issued in 1906. This historic document was printed by the Goes Company and has an ornate border around it with a vignette of a group of miners working underground. This item has the signatures of the Company's President, J. S. Doughty and Treasurer, George G. Thomson and is over 94 years old.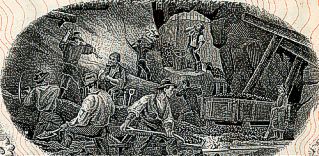 Certificate Vignette
Mines Directory 1910 GOLDFIELD TREASURE MINING COMPANY. Located in Goldfield District, Esmeralda County, Nevada. Comprising three groups., 13 claims in all. Group No. 1 is one mile north of Goldfield, five fractions (equal to two full claims), all patented. Group No. 2 is in Diamondfield Section of District, three unpatented, full claims. Group No. 3, eastern part of District, five unpatented, fractional claims. Gold ore. Incorporated June. 1904, Arizona laws; capitalized at $1,000,000--1,000,000 shares, par $1. Xon-assessable. 277,000 shares in treasury. Group No. 1 has a 185-foot shaft with 100 feet of drifts. Group No. 2 has two shafts, 50 feet each, with 100 feet of drifts. Group No. 3 has a 75-foot shaft. All equipped with whims. State assessment work is done up to 1909, and no indebtedness. Officers: John S. Doughty, President; Chas. J. Suplee, Vice- President, and Geo. J. Thompson, Secretary and Treasurer. Main office, 310 Cherry Street, Philadelphia, Pennsylvania.