Beautifully engraved specimen certificate from the Goldman Sachs Group, Inc. printed in 1998. This historic document was printed by the American Banknote Company and has colorful, cubic pattern stretched on the side, a picture of the building on 30 Pine Street, and a vignette of Marcus Goldman and Samuel Sachs. This item has the printed signatures of the Company's Chairman and Chief Executive Officer and Treasurer, and is over 16 years old. This specimen certificate is neatly attached to the Goldman Sachs' brown protector (with Goldman Sachs name embossed in gold) and includes a letter from Henry "Hank" Paulson, Jr., John Thain, and John Thornton.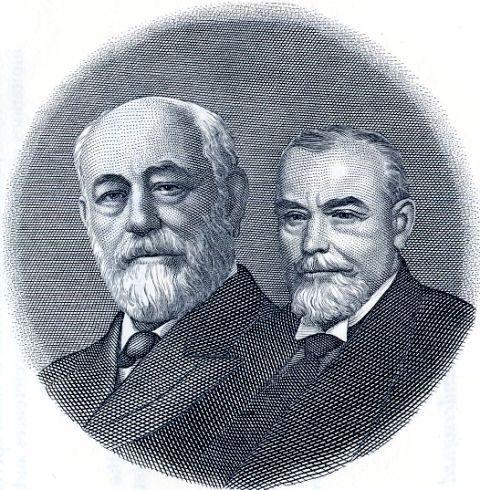 Certificate Vignette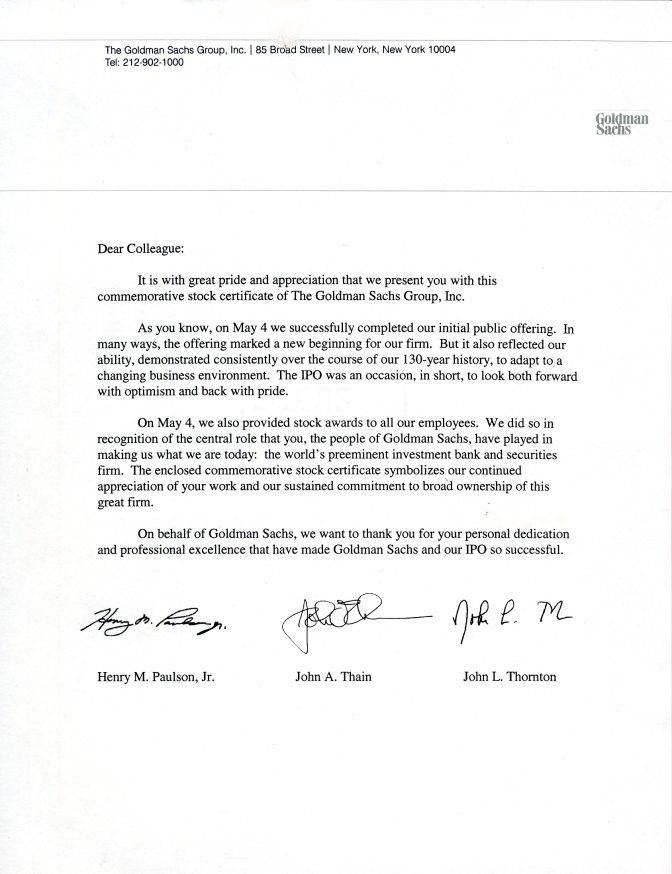 Letter from the Former Goldman Sachs Group., Inc.
According to the Bank Note Reporter (December 20, 2007), a similar commemorative "Goldman Sachs Group" specimen stock certificate went for $8,625 (not including the 15% buyers premium) in the ABNC Archives Harmer Auction. According to Dr. Robert Schwartz, "Probably a world record price for a modern stock certificate specimen." Goldman Sachs is a leading global investment banking and securities firm, providing a full range of investing, advisory, and financing services worldwide to a substantial and diversified client base, which includes corporations, financial institutions, governments, and high net worth individuals. Founded in 1869, they are one of the oldest and largest investment banking firms. After more than a century as a private partnership, their firm became a public company in 1999. The Goldman Sachs Group, Inc. is headquartered in New York and has 42 offices in over 20 countries. History from
OldCompany.com
(old stock certificate research service).