Unissued stock certificate from the Hahn Motor Truck Company. This historic document was printed by the Security Banknote Company in 1920 and has an ornate border around it with a vignette of an eagle.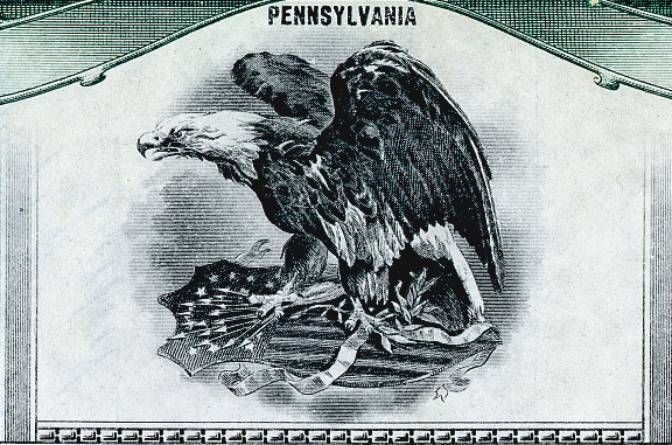 Certificate Vignette
Hahn Fire Apparatus, also known as Hahn Motors, was a fire apparatus builder located in Hamburg, Pennsylvania, United States that built custom and commercial fire apparatus from the early 1920s until its closure in 1989. Hahn built its own chassis, and also built commercial trucks such as delivery vehicles and construction vehicles. Hahn also built busses W.G. Hahn & Bro. 1907-1913 - Hahn Motor Truck & Wagon Co. - 1913-1920 - Hahn Motor Truck Co. - 1920-1926 - Hahn Motors Inc. 1931-present - Hamburg, Pennsylvania - Hahn Motor Truck Co. - 1927-1930 - Selden- Hahn Motor Truck Co. 1930-1931 - Allentown, Pennsylvania After building one truck and one automobile in his wagon works in 1907, W.G. Hahn decided to build trucks as well as wagons. Truck production was minimal prior to 1913. Hahn built conventional chain drive trucks powered by the Continental 4-cylinder engine. The 1 ½ -ton chassis cost $2,400 in 1914. Five models from 1500-pound to 3Yo-ton capacity were built from 1915, when Hahn also began building fire apparatus. A 5-ton model filled out the line in 1918. Hahn used worm drive from 1916, although the first 5-ton trucks had chain drive. Postwar inflation resulted in a chassis price of $10,000 for the 5-ton truck in 1920. In 1922 Hahn offered eight models from 1-ton to 6-ton with prices from $1,750 to $4,650. Production in the 1920's averaged 600 trucks per year until 1927 and increased thereafter. Hercules engines were used from 1923. When the first 6-cylinder models were introduced in 1926. Continental and Hercules engines were used in both the 4cylinder and 6-cylinder lines. Hahn offered 27 and 35passenger bus chassis with the 6-cylinder Continental engine and a 20-passenger bus chassis with the 4-cylinder Hercules engine. Hahn took over the former Bethlehem plant in Allentown in 1927 and moved their offices there, although the Hamburg plant was continued. A line of trucks with the 6cylinder Continental engine was announced in August, 1929. Seven models priced from $1,098 for the ¾ -ton to $4,950 for the 5-ton were offered. All models featured 4-wheel hydraulic brakes and a distinctive cast aluminum C radiator shell. A merger with Selden lasted 16 months, during which time some Hahn models were offered under both name plates. Hahn returned to Hamburg in 1931 and retrenched in their own factory. Some trucks built in the early 1930's were powered by the 4Y2-litre Franklin 6-cylinder engine. Hahn concentrated on fire apparatus from 1933, although a complete line of trucks powered by the Waukesha 6cylinder engine was offered on special order until 1941. During World War II, Hahn manufactured mobile machine shops and special recovery trucks for the U.S. Engineer Corps. Hahn's only post-war truck production consisted of a large order of delivery trucks built on Ford chassis for United Parcel Service. Since 1948 the firm has limited manufacture to a line of custom fire apparatus. Since the 1950's the forward control cab has been used to increase chassis space for the many new pieces of fire fighting equipment. Chassis and body are of Hahn manufacture; engines used are either Detroit Diesel or Waukesha gasoline. Production in the early 1970's has averaged 100 custom fire engines a year. History from
Collectible Old Stocks and Bonds
(old stock certificate buyer and seller) and
WWI Liberty Bonds Buyer
.