Beautiful certificate from the Halifax Golf Club, Limited issued in 1935. This historic document was printed by Jordan & Sons Company and has an ornate border around it with a vignette of the Halifax Golf Seal. This item has the signatures of the Company's Director's and Secretary and is over 74 years old.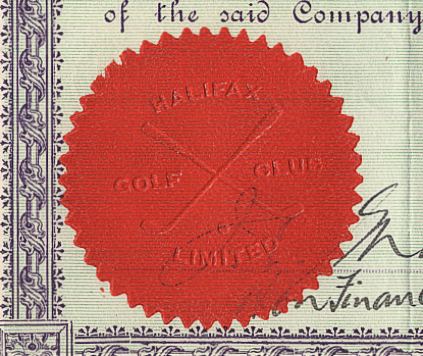 Certificate Vignette
Established in 1895, the golf course was designed in the early 20th century by James Braid, five times Open champion and foremost architect of his day. The 18 hole course at Ogden is as natural as the finest seaside links you could name. The layout has remained true to its original design with the only major alterations being made by Dr Alistair McKenzie in 1912. Dr McKenzie went on to design some of the greatest courses in the world including the Augusta National, home of the US Masters in partnership with the legendary Bobby Jones. Ogden's design credentials are therefore second to none.