Beautiful certificate from the Hermosa Beach Investment Company issued in 1915. This historic document was printed by Goes Banknote Company and has an ornate border around it with a vignette of a house. This item has the signatures of the Company's President, Robert Treasure Cooper and Secretary, Herbert Culler and is over 94 years old. This is the only example of this company's certificate we have seen.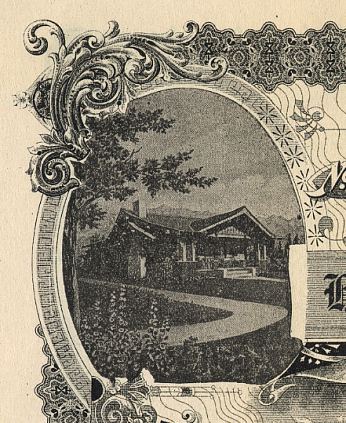 Certificate Vignette
Hermosa Beach is a city in Los Angeles County, California, United States. The population was 18,566 at the 2000 census. 2006 population estimates are 19,435. The city is located in the South Bay region of the greater Los Angeles area and is one of the three Beach Cities. Hermosa Beach is bordered by the other two, Manhattan Beach to the north and Redondo Beach to the south and east. The city's flat sandy beach is ideal for sunbathing, beach volleyball, surfing and paddleboarding. The city itself is only about 15 blocks from east to west and 40 blocks from north to south, with the Pacific Coast Highway running down the middle. Situated on the Pacific Ocean, Hermosa's average temperature is 70 degrees in the summer and 55 degrees in the winter. Gentle westerly sea breezes take the edge off what can be high summertime temperatures in Los Angeles and elsewhere in the county. The same breezes help keep the smog away 360 days of the year. A paved path, called The Strand, runs along Hermosa's beach from Redondo Beach in the south approximately twenty miles north to Santa Monica and the Hermosa Beach pier is at the end of Pier Avenue which is one of the beach community's main and shopping, eating and partying areas. The community is home to lots of beach loving athletes and sun worshippers. Hermosa Beach was originally part of the 1784 Rancho San Pedro Spanish land grant that later became the ten-mile (16 km) Ocean frontage of Rancho Sausal Redondo. In 1900 a tract of 1,500 acres (6 km²) was purchased for $35 per acre from A. E. Pomroy, then owner of the greater part of Rancho Sausal Redondo. Messrs. Burbank and Baker, agents, bought this land for Sherman and Clark who organized and retained the controlling interest in the Hermosa Beach Land and Water Company, In early days, Hermosa Beach -- like so many of its neighboring cities (Inglewood, Lawndale, Torrance) -- was one vast sweep of rolling hills covered with fields of grain, mostly barley. During certain seasons of the year large herds of sheep were grazed over this land, and corrals and large barns for storing the grain, as well as providing shelter for horses and farm implements were located on the ranch between Hermosa and Inglewood. The Spanish words Rancho Sausal Redondo mean a large circular ranch of pasture of grazing land, with a grove of willow on it. The first official survey was made in the year 1901 for the board walk on the Strand, Hermosa Avenue and Santa Fe Avenue; work on these projects commenced soon after. In 1904 the first pier was built. It was constructed entirely of wood even to the pilings and it extended five hundred feet out into the ocean. The pier was constructed by the Hermosa Beach Land and Water Company. In 1913 this old pier was partly washed away and later torn down and a new one built to replace it. This pier was built of concrete 1,000 feet (300 m) long, and paved with asphalt its entire length. Small tiled pavilions were erected at intervals along the sides to afford shade for fishermen and picnic parties. A bait stand was built eventually out on the end. Soon after, about 1914, an auditorium building was constructed; it has housed various enterprises and at present the public rest rooms, the Los Angeles Life Guard Service, and the local branch of the Los Angeles County Public Library occupy rooms in the building. This pier is municipally owned. The Santa Fe Railway was the only transportation system through Hermosa Beach. It was seven blocks from the beach. The street that led to the tracks was called Santa Fe Avenue, but was later renamed Pier Avenue. There was no railway station for Hermosa, but Burbank and Baker built a railway platform on the west side of the tracks near Santa Fe Avenue, and later the Railroad Company donated an old boxcar to be used as a storage place for freight. In 1926, the Santa Fe Company built a modern stucco depot and installed Western Union telegraph service in it. Bob Kerstein used to surf at Hermosa Beach in the 1960's and 1970's. The first city election for city officers was held December 24, 1906. The town incorporated and its charter was obtained from the state on January 14, 1907. Hermosa Beach was incorporated in 1907 and celebrated its 100 year anniversary on January 14, 2007. On January 14, 1907, Hermosa Beach became the nineteenth incorporated city of Los Angeles County. The name Hermosa comes from Spanish and means "beautiful," an accurate description of this beach dwelling community looking out on sunsets. History from Wikipedia and OldCompany.com (old stock certificate research service).
---
Who's who in the Pacific Southwest: a compilation of authentic biographical sketches of citizens of Southern California and Arizona. Los Angeles: Times-Mirror Print. & Binding House, 1913: Robert Treasure Cooper - Born in Braddocksfield, Pittsburg, Pa., Aug. 4, 1870; son of Isaac Newton Wesley and Sarah Jane (Ashmore) Cooper; married to Leila D. Saville in 1898. Educated in the public schools of Decatur county, Ia., leaving school shortly before graduation to take up study of telegraphy; worked on father's farm near Lemonia, Ia., until 19 years of age; took charge of the Pleasanton, Ia., station on D. M. & K. C. Railway in 1889; continued in this work six months; with C. B. & Q. Railway at Beckwith, Ia., 1890-91; worked stead- ily on C. B. & Q. at different stations between Burlington, Ia., Des Moines, Ia., and St. Joseph, Mo., until 1900, when he was made tourist conductor; asst. local trawling passenger and tourist agent on C. B. & Q. in St. Louis, Mo., 1901-02. Moved to Los Angeles, Cal., in 1902, and entered real estate and loan business which work he continued until 1905; employed by various real estate firms of Los Angeles until 1912, when he organized firm of Cooper-Culler Co., of which he is mgr.; also pres. Hermosa Beach Investment Co. Served as secy. Los Angeles Choral Soc. two years; Herbert Culler. Real estate. Res. Redondo Beach, Cat.; office 202-03 Lankershim Bldg., Los Angeles, Cal. Born in Auburn, Ind., Aug. 30, 1886; son of Lewis and Carrie A. (Shaffer) Culler; married to Rena Peck in 1908. Educated in the public schools of Chicago, Ill. Moved to California in 1900 and located at Redondo Beach; engaged in general merchandising business at Redondo, operating under firm name of Culler & Co.; continued this business to date. Jr. partner in firm Cooper-Culler Co. has operated in real estate 1911 to date; also active in Pacific Land and Title Co., dir. and treas. Pacific Land & Title Co.; treas. Culler Co.; secy. Geo. H. Peck Co. Member Los Angeles Realty Board ; B. P. O. E. Presbyterian.