Beautiful certificate from the Hutzler Brothers Company of Baltimore City issued in 1916. This historic document was printed by the Ahoen & Company and has an ornate border around it with a vignette of an allegorical woman holding a scale. This item has the signatures of the Company's President, Henry Oppenheimer and Secretary, Edwin B. Hutzler, and is over 102 years old.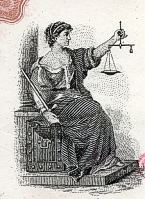 Certificate Vignette
Hutzler Brothers Company, one of Baltimore's major retail stores, was founded in 1858 by Abram G. Hutzler, son of German-Jewish immigrants when he took over a small shop operated by his brother-in-law, Elkan Bamberger. Because he was too young to secure credit in his own name, Abram Hutzler opened the store under his father's name, M[oses] Hutzler & Son, however Moses was never connected with the business. The original store dealt mainly in laces, fine fabrics and fancy goods, the majority of which were imported from Europe. In 1867, Abram Hutzler took his two brothers, Charles G. and David into the business with him. Until 1888 Abram and Charles ran a wholesale business, leaving David to manage the retail store. After closing the wholesale business, all three brothers concentrated on developing the retail store. Beginning in 1901 with Louis S. Hutzler, the second generation of Hutzlers began coming into the business. Louis was followed by Albert David, Sr. in 1910 and Charles G. II in 1926. The firm was incorporated in 1908 under the name Hutzler Brothers Co. of Baltimore City, later shortened to Hutzler Brothers Co. This period was marked by strained relations and low morale among the officers and executives primarily due to overlapping job responsibilities and lack of organization. During the 1920's a major reorganization of management, equipment and policies took place which transformed the store into a modern retail business. Abram Hutzler's original store was located on the corner of Howard and Clay Streets. The building expanded as success increased the store's business. The famous "palace building" was completed in 1888 and property along Howard Street between Saratoga and Mulberry Streets continued to be acquired and developed. In 1952 Hutzler's first branch store was opened in Towson, Md. The 1950's and 1960's saw the development of suburban shopping malls. Hutzler's first mall store opened in 1956 at the Eastpoint Shopping Center and was followed by many other mall-located branches. Hutzler Brothers Co. is known for a number of innovations in the retail business. As early as 1868 Hutzler's established the now standard one-price system of pricing merchandise. Most retailers practiced a bargaining method where the more aggressive and persistent customer got the better price. Customers slowly came to realize that one price for everyone was a fairer way of doing business. Hutzler's was a leader in pursuing new advertising methods and in refunding money to customers dissatisfied with the merchandise. They established the first bargain counter during the Civil War when Baltimore was under martial law and business was sluggish. They also had the first fleet of delivery trucks in Maryland. An electric truck purchased in the early twentieth century was quickly replaced by the more reliable gasoline engine trucks. As a teenager, Henry Oppenheimer (born August 21, 1865 in Walldürn, Grand Duchy of Baden; died July 6, 1958 in Baltimore, MD) boarded the Westphalia in Hamburg, Germany, and sailed to America on his own. After apprenticing at his uncle's clothing manufacturing business in Baltimore, Oppenheimer opened his own wholesale clothing company there. Unfortunately, after five years in operation, his company was badly damaged in the Great Baltimore Fire of 1904. Oppenheimer was married to Cora Hutzler, a member of one of Baltimore's most renowned department store families. At the invitation of his father-in-law, David Hutzler, Henry Oppenheimer eventually became president and general manager of Hutzler Brothers Company. Oppenheimer was a founding member and the first president of the Baltimore Retail Merchants' Association. He stepped down as president of Hutzler Brothers Company in 1919 but remained active on its board of directors; he also continued to serve in an operational capacity. After leaving his managerial position at Hutzler's, he continued to be involved with the Retail Merchants' Association and with various service organizations in Baltimore. Remembered as a kind person and a respected businessman, Oppenheimer died at age ninety-two after a brief illness. History from the Maryland Historical Society, Wikipedia and RM-Smythe.com.