Beautiful certificate from the International Pneumatic Tube Company issued in 1912. This historic document was printed by the American Banknote Company and has an ornate border around it with a vignette of an allegorical man with a herald trumpet and sword, and an allegorical woman holding a palm leaf and crown. This item has been hand signed by the Company's President, and Treasurer, and is over 99 years old.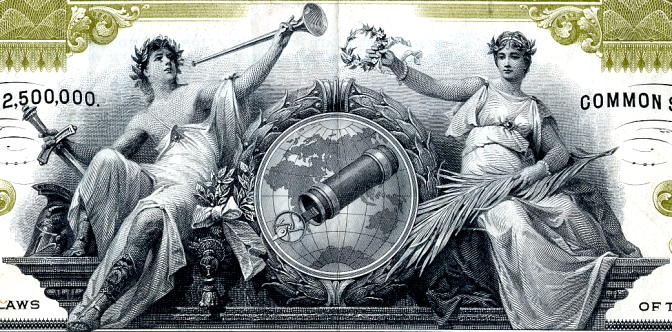 Certificate Vignette
Pneumatic tubes were introduced by the post office to deliver mail in large urban areas. The system used pressurized air to move a mail canister through an underground eight-inch cast-iron pipe. At its greatest expansion, there were more than 56 miles of mail tubes on the East Coast delivering as many as 200,000 letters per tube every hour. (Legend has it that a live cat was sent through as a test in 1896.) Western Union also used pneumatic tubes, linking its main telegraph office to some of the exchanges. When the system was first installed, pneumatic transport was considerably faster than horse- drawn wagon, then the most common vehicle for mail delivery. In New York City, two pipes were used along each route, one for sending, the other for receiving. The pipes were buried 4 to 12 feet underground, though in some places the tubes were placed within subway tunnels, parallel to the 4, 5 and 6 lines. Each two-foot-long mail canister had felt and leather packing on each end to create an airtight seal, as well as four small wheels, which helped prevent the canister from becoming lodged at a junction in the pipes. (Mr. Stark said he found records from the early 1930's indicating that there had been at least three incidents of malfunction.) Each container was labeled to indicate the destination of its contents. Special delivery letters were delivered within one hour; regular letters within three. Construction of the tubes began in the late 1890's and they were in operation by 1898. Before the end of the original 10-year contract, the pneumatic service was taken over by the American Pneumatic Service Company, which later became the New York Mail & Newspaper Transportation Company. Charles Emory Smith, the former postmaster general, predicted in The Brooklyn Eagle in 1900 that one day every household would be linked to every other by means of pneumatic tubes. Around the turn of the century, there were even several proposals to build a system between North America and Europe. Stock research by
OldCompany.com
(old stock certificate research service).